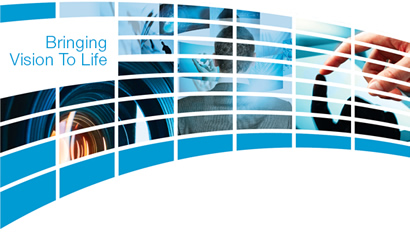 Products Featured at NAB 2013

GPU accelerated transcoding for every screen plus the world's most intelligent workflow orchestration.
Unparalleled transcoding speed, quality & GPU acceleration
Simplifies media conversion and distribution for broadcast, cable, post, IPTV, OTT, multiscreen
Supports all major formats & systems, including adaptive bit-rate streaming
Automates video processing, metadata management, media analysis, device interoperability
Unifies processes and 3rd party integrations within a simple UI
Scales from standalone to large, multi-server systems
Multiscreen: GPU accelerated content preparation for Apple, Adobe, Microsoft, MPEG-DASH & Ultraviolet
New! See our fully integrated HEVC encoding in Vantage Transcode Multiscreen
IPTV and Cable: Reduced bit rate, increased quality, faster turnaround, lower transmission cost
New! Vantage Transcode IPTV VOD, fully accelerated IPTV and cable VOD encoder
Broadcasting: Transcoding at Lightspeed for all major broadcast servers
New! Support for AS-11, AS-02 in Vantage Transcode Pro
Archiving & Production: GPU accelerated standards conversion, inverse telecine & transcoding for edit systems
New! Tachyon integration and fully integrated Quality Control workflows
New for Vantage Workflow Orchestration: Best in class partner integrations
File-based standards conversion with Tachyon
High-speed digital delivery with Aspera
GPU accelerated QC with Digimetrics Aurora
File-based QC with Baton
Watermarking with Civolution
Introducing: Vantage Cloud: Run all the capabilities of Vantage in the cloud
GPU or CPU transcoding, analysis, automated decision making, 3rd party system integrations
Easily unifies with on-premise systems
Dynamic scalability based on real-time demand
Instant provisioning with pay-as-you-go pricing at Amazon Web Services

Scalable network video capture and playout
Capture video from tape or live sources
Fast turnaround edit or transcode while capture
Real-time, user-selectable encoding to multiple formats
Ingest directly into Avid or Final Cut systems
Schedule, log/capture, print-to-tape and automated control UI
Multi-channel SD/HD capture & playout to tape
Pipeline Replay multichannel video player application
Instant synchronous playback of dozens of multi-angle HD camera feeds
Ideal for sports & live event analysis

Live streaming production software
Ideal for streaming live events: news, sports, concerts, church services, meetings, and more
Capture live video from multiple cameras, capture cards and other input sources
Switch between live feeds and other imported video, audio, graphics and slides
Add production polish with titles, PiP, scoreboards, chroma key and more
Integrated multiformat encoding (Flash, QT, WM) for live streaming flexibility
Teradek plugin with support for Teradek Cube, Bond and the Sputnik solution
Stream to multiple destinations and bitrates simultaneously
Unrivaled stability and reliability
Cross-platform software for Mac and PC
New: Complete Turnkey Solutions featuring Wirecast & Matrox VS4
High-quality, multicamera live video production with up to 4 HD-SDI feeds.
Records all video feeds independently for post-event editing and future archiving.
New: Increased flexibility with virtual camera output
Enables Wirecast output to be picked up directly as a video source by any device or software that takes a camera source, such as Skype and Google Hangouts.
New: XOS Scoreboard plugin for live sports webcasts
Display real-time detailed scoreboard data including game clock, countdown clock, down, distance, field position, fouls, and more.

Multiformat software encoding
Integration with axle 1.0 media management software enabling access to Episode's single or multi-system transcoding clusters from within the axle interface.
New! Optimized for even higher volume workflows
New! Support for .SCC and H.264 web captions
New! Easy-to-use API documentation with examples
New! Video rotate filter adding more filters to your toolbox
New! Sub folder deployment enabling automated mirroring of complex folder structures

Automated transcoding and media/metadata delivery
Extensive video/audio format & system support
Content repurposing for web, mobile, IPTV
Hands-free processing; 24/7 reliability