Flip4Mac WMV Player Pro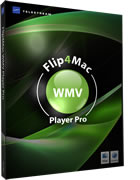 Editing movies from your digital camera is easy with Flip4Mac WMV Player Pro. Simply record movies using your digital camera's Movie Mode and use Flip4Mac WMV Player Pro to make them available for editing in applications like iMovie '06*. There's no easier way to make and edit movies or to move media files into your iPod. Simply convert your Window Media video and audio files into QuickTime files and then import into your iTunes library with Flip4Mac WMV Player Pro.
Flip4Mac WMV Player Pro allows you to import Windows Media video and audio for editing or conversion to other QuickTime formats**. You can import directly into applications like Final Cut Pro, Final Cut Express HD, QuickTime Pro and iMovie '06*. You can also convert files from Windows Media to other QuickTime formats using applications like QuickTime Pro, Cleaner 6 and Sorenson Media Squeeze 4.1.
*iMovie '08 and '09 not supported.
**Player Pro does not export to WMV. You must purchase or upgrade to a Flip4Mac WMV Studio application for WMV encoding.