Lightspeed Live Capture is the flexible solution for ingesting multiple video formats, creating mezzanine and H.264 proxy files, and storing them locally or pushing them to external storage.
To discuss your needs or try all of the features of Lightspeed Live Capture: contact sales or find a reseller.
Telestream® Lightspeed™ Live Capture adds a uniquely flexible capture solution to the Telestream portfolio of professional enterprise-class video products.
Supporting 4 SD/HD/3G-SDI or 1 of 4K/UHD-SDI inputs — Lightspeed Live Capture simultaneously creates multiple high resolution and proxy output files, while allowing for independent delivery options for each output, and can operate as a standalone capture device, a multiple server capture farm or be seamlessly added to a Vantage domain of any size allowing for unlimited workflow possibilities — Lightspeed Live Capture is the most versatile ingest platform available.
With the future in mind, the Lightspeed Live Capture architecture has been designed to address IP inputs and other media formats to adapt to changing media technologies.
Features
Standalone or Vantage integrated
Lightspeed Live Capture can operate as a standalone device or as part of a Vantage domain. The integration is seamless, and the Capture action appears as an Origin Action in Vantage. Expanding the system is easy: to increase the channel count on your domain, simply add additional Lightspeed Live Capture units.
Media platform friendly
The Lightspeed Live Capture system creates growing files that directly support 3rd party media processing platforms, including Avid Media Central, Adobe Premiere and Apple Final Cut Pro.
Features at a glance
System Features
Flexible codec and container support
Highly scalable solution—standalone or multi-server systems
High Channel Density 1RU Capture chassis
Workflow Features
Seamlessly integrated with Vantage including Open Workflows
Output multiple resolutions files from any input
Capture to Local RAID or external shared storage
Wide range of delivery options—CIFS, FTP, S3, Aspera, others
Supports edit, transcode or copy from growing files
Time Shift buffer—capture frames from up to 60 seconds in the past
Browser based control interface
Designed for demanding enterprise-class broadcast and professional live video capture applications— and log and capture applications—Lightspeed Live Capture offers premium features and exceptional performance. Powered by the latest generation of Lightspeed Live server, Capture excels at performing demanding video ingest from similar or mixed format sources, while simultaneously creating multiple high resolution and proxy files from any of its inputs. Files are written directly to the Live Capture server's local RAID storage or to NAS/SAN shared storage. Live Capture also offers a wide range of delivery choices such as CIFS, FTP, S3 or Aspera systems.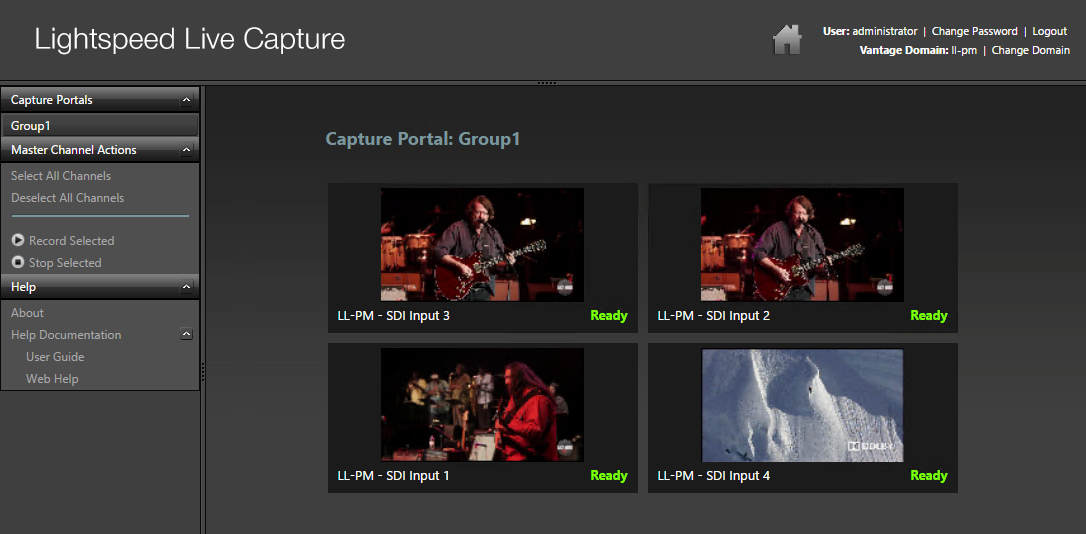 As a standalone system, Lightspeed Live Capture acquires SDI video from up to 4 independent input channels (or IP streams in a future release). Multiple Live Capture servers can be joined together to create a multiple server capture farm under a common control interface. In addition Live Capture can be seamlessly integrated directly into a Vantage domain enabling unlimited workflow possibilities through Vantage's Media Processing Platform.
Lightspeed Live Capture offers best in class channel density (4 HD channels in 1 RU) and a broad range of control methods (Lightspeed Live Capture Web Application, Lightspeed Live Capture Web Service Application Program Interface (API), VTR control via RS-422 or Vantage Management Console) plus enterprise class system management tools including IPMI, SNMP and Windows Active Directory login.
SD/HD/3G-SDI Video Inputs
SMPTE 259M-C (270Mb/s, 480i/576i) 625/50, 525/59.94
SMPTE 292M (1.5Gb/s, 720p/1080i/1080p/1080@24Psf)
SMPTE 424M (3.0Gb/s, 1080p50/60) UHD/4K Video Inputs (using Quad-Link 3G-SDI)
UHD/4K Video Inputs (using Quad-Link 3G-SDI)
UHD (3840 x 2160p- 23.98/24/25/29.97/30/50/59.94/60)
4K (4096 x 2160p - 23.98/24/25/29.97/30/50/59.94/60)
Audio Channels
Up to 16 channels embedded SDI audio 48Khz/16/24bit / Uncompressed
VTR Machine Control for each SDI Input
RS-422, 9 pin Sony Protocol
Control up to 4 VTRs per Lightspeed Live Capture system
External API Control
Web service
RS-422 (BVW/Sony 9-pin)
Time code sources
Source SDI input (VITC/VBI)
RS-422
Analog LTC
Computer Clock
Free Run
Edit solutions
Apple Final Cut Pro 7 and X
Adobe Premier Pro CC
Avid Media Composer 6 or later
Others
Primary output file formats
Apple ProRes – 422HQ, 422SQ, 422LT, 422 Proxy, 444
DNxHD - 444, HQX, HQ (220/185 Mbps), HQ TR (145/120 Mbps), SQ (145/120 Mbps), SQ TR (100 Mbps), LB (45/36 Mbps)
DNxHR – 444, HQX (10 bit), HQ, SQ, LB
AVC Intra - 50 Mbps 4:2:0, 100 Mbps 4:2:2, 200 Mbps 4:2:2
AVC Baseline, Main, High. Bit Rate - 50 Mbps
XDCAM HD - 18 Mbps CBR, 25 Mbps CBR, 35 Mbps VBR
XDCAM HD422 - 50 Mbps CBR
XDCAM EX - 35 Mbps VBR
IMX – 30, 40, 50Mb/s
HEVC (software encoding only) Bit Rate - 50 Mbps
DV - DV 25 Mbps, DVCPRO 25 Mbps, DVCPRO 50 Mbps, DVCPROHD
x264 Baseline, Main, High, High 10, High 4:2:2. Bit Rate 512-50,000 kbps
x265 Main, Main 10, Main Intra, Bit Rate 512-50,000 kbps
Browser based control UI
Manual Recording options
24/7/365 Scheduling
VTR control via RS-422
Web Service API
Multichannel Gang recording
Container Wrappers
MXF OP1a including RDD9 and RDD25 variants
QuickTime
MP4 - complies with IEC-14496-14
Telestream TIFO
Proxy output files
AVC/H.264 - MXF OP1a - High@L3, container conforms to SMPTE RDD25, Bit Rate 512-10,000 kbps
AVC - MP4 - High@L3, container conforms to IEC-14496-14, Bit Rate 512-10,000 kbps
Hardware
1 RU chassis
Dual hot swap Power Supplies
4 x 10GBase-T Ethernet ports
Up to 8.8TB of local RAID storage
Environment
Management console and system monitoring via SNMP
Size: H 1.7" (43mm) x W 17.2" (437mm) x L 27.8" (707mm)
Weight: 32 lbs
AC Input: 100-127Vac, 50-60Hz; 200-240Vac, 50-60Hz
Operating Temperature: 5°C to 40°C (41°F to 104°F)