Highest Quality Recording
ScreenFlow has the best screen recording available – whether you are recording multiple screens at once, or using retina displays.

Built in Stock Media Library
Spice up your videos with access to over 500,000 unique images, audio & video clips and more directly from within your ScreenFlow projects.

iOS Recording
Record your iPhone or iPad screen for high quality app demos.

Easy to Learn, Easy to Use
ScreenFlow's intuitive UI allows everyone to create amazing content in minutes.

Powerful Video Editing Tools
Add pro touches to your videos with transitions, text animations, video animations, freehand annotations, multi-channel audio and more.

Professional Animations & Motions Graphics
Animate graphics, titles and logos with built in video and text animations.

Better Tools for Software Tutorials
Use Styles and Templates to make editing a series of Software tutorials quicker and easier.

Streamlined Media Management
Organize your projects with nested clips, multi-track editing, markers, color labels and complete access to media files stored on your computer.

Closed Caption Support
Use ScreenFlow's caption editor tool to add, edit and even burn in ADA compliant soft subtitles to your videos.
More Publishing Options
Directly publish your videos to one of a handful of popular content hosting sites like Imgur, Wistia, Youtube, Vimeo and more!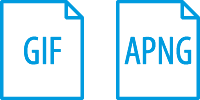 Animated GIF and Animated PNG Export
Create animated GIFs and APNGs from any video project in ScreenFlow.

ProRes, MP4 Encoding & More
ScreenFlow comes with a number of preset export settings for optimal quality videos.