Customer Stories & Reviews
"We were astounded with the capabilities ScreenFlow offers
for such a low price and immediately made it our tool of choice
for screen capture and video editing tasks."
Software Demos

"I realized pretty quickly that ScreenFlow was a unique blend of power and simplicity. It's not bogged down with a lot of unnecessary features, but has just the right amount so it remains easy and intuitive while still being a powerful and versatile app. I consider it a very elegant application in that sense."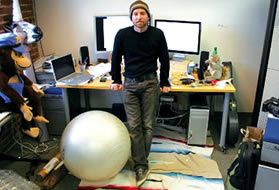 "All in all, ScreenFlow is a must have for every entrepreneur!"
"using this application has been a real joy, everything performs so smoothly the controls are simple to operate and the results are reliable and top notch definitely worth the price."
"If you're a screencaster producing videos on a Mac, and you want a capture/editing application that deals equally well with screen capture and live content, ScreenFlow is a must-have."
More Customer Stories
More Reviews
How ScreenFlow is Used
iPhone App Demos
With ScreenFlow, iPhone developers have a tool to record their applications (using any iPhone simulator, or combined with AirPlay and Reflection), and choose a finger as a mouse pointer as they navigate around their iPhone application. This makes a nice video demo of their iPhone application that they can use to spread the word about their great new app!
Promotional Videos
ScreenFlow is a perfect tool to help marketers and bloggers create and edit promotional videos. Combine screen recorded video with Keynote or PowerPoint presentations, screen record Skype interviews, or create Picture-in-Picture video with your iSight camera and a second video camera. Add in images, recorded video, a soundtrack, and you've got a polished-looking video promotion.
Educate Your Students
Teachers can use ScreenFlow to record their lectures, tutorials, or instructions for students, or to create rich-media presentations. Many educators use ScreenFlow to "Flip" their classroom – recording high quality video presentations for students to view for homework, and using class time for more personalized learning.
Training Your Audience
Professional and corporate trainers use ScreenFlow to provide online, on-demand video training as a cost-effective and flexible alternative to live training. The beauty of ScreenFlow is that they only need to record their message once and students can access the video at any time that fits their schedule.

Video Editing
In addition to its screen recording capabilities, ScreenFlow provides an easy-to-use, timeline-based video editing interface perfect for editing promotion videos, home movies, demonstrations, and more. Add in images, recorded video, a soundtrack, and you can create your own music video or best picture nominee.