What's New in ScreenFlow 4.0

Stay more organized
Nested Clips
Make even the most complex projects more manageable. With a single click, ScreenFlow's nested clip feature lets you merge multiple elements into a single (nested) clip whose content can be accessed and edited on a separate tabbed timeline.
Very complex sequences can be encapsulated in a nested clip, which keeps your project organized and makes it easy to create re-usable elements.  Nesting also provides another form of clip grouping; you can apply video filters and actions such as speed changes, color correction, or effect filtering to a nested clip, giving you a powerful mechanism to join existing content.
Merge multiple elements into a single (nested) clip on the timeline
Access and edit nested content on a separate tabbed timeline
Apply filters and video actions to nested clips as a way to join content
Media Library organization tools
A number of improvements have been made to ScreenFlow 4 Media Library to make it easier than ever to find and organize all your clips. New features include search functionality, list view, 'Arrange by' controls, lasso selection, context sensitive 'select clips in timeline' feature, resizable library window and more.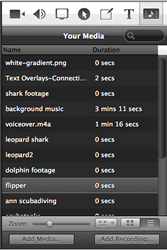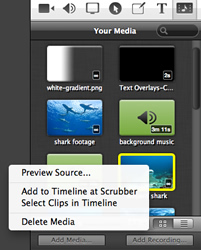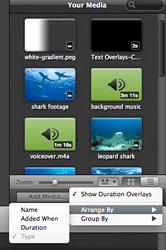 Reach new audiences
Closed Caption support
Add closed captions to all your movies. Use ScreenFlow's caption editor tool to add, edit and publish ADA Compliant soft subtitles as caption tracks to your MPEG-4 movies (suitable for playback with an iPhone & iPad) and YouTube videos. Preview captions by selecting "Show Captions" in the view menu. Caption tracks can be created in multiple languages and can also be exported separately as an SRT file.
MPEG-4 export
Export faster, higher quality MPEG-4 files using the x264 codec

Razzle-dazzle 'em
Chroma Key
Transport yourself to a new studio or location using ScreenFlow's high quality Chroma Key filter. Replace your green (or any color) background with your own video or still image background with a single click.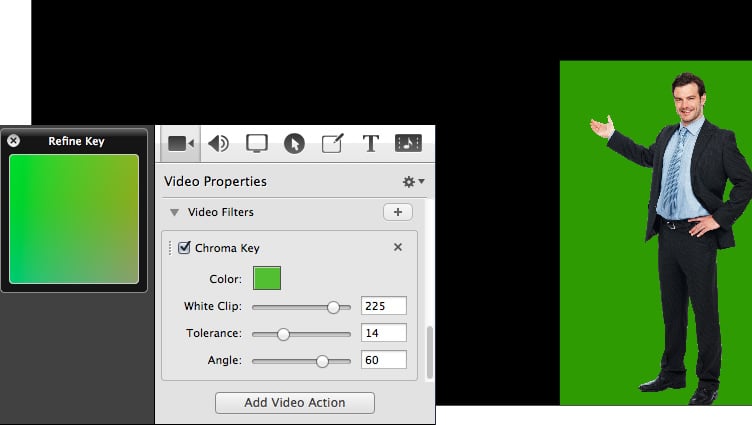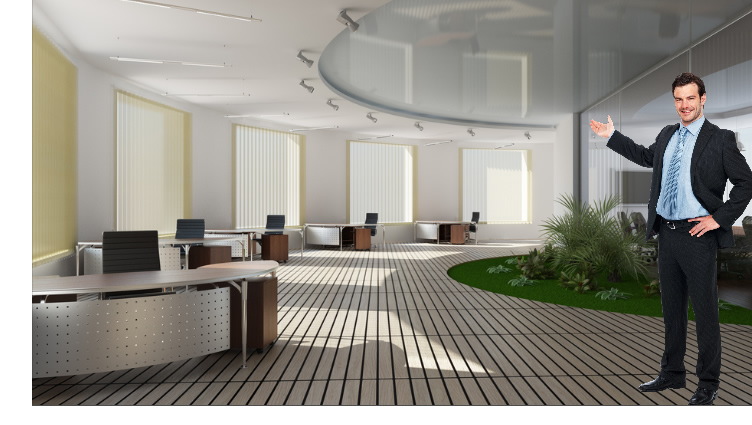 Core Image video and audio filters
Create your own style by adding video and audio effects. ScreenFlow 4 adds support for a vast array of built-in filters to add effects to videos and images, as well as audio. Video effects include advanced color adjustments, distortion effects, blurring, alpha mask, color effects, and more. Audio effects include EQ, multiband compression, peak limiting, delay and more. Each filter has parameters that can be further adjusted for fine tune control. Apply multiple filters to a single clip or also apply them to nested clips.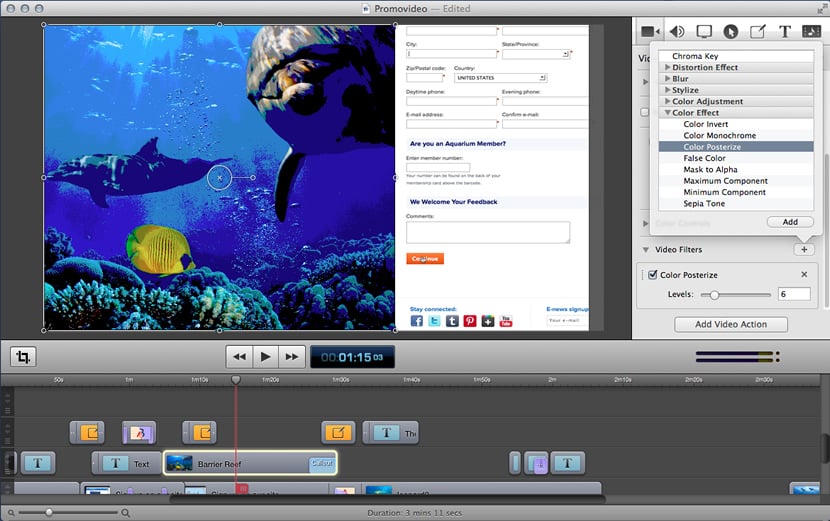 And much more including:
Freehand callout support for all media
User-definable canvas size for new documents
ProRes Alpha Channel Support in export on OS X 10.7+

Streamline your workflow
and save time
Dynamic Update of Media
Save time and eliminate extra steps when you refine media created outside of ScreenFlow. Videos, images and external audio imported into ScreenFlow remain linked to their original sources. If a source asset is modified, ScreenFlow will offer the option to 'reload' the modified asset. When reloaded, the asset will dynamically update in the library, timeline and canvas. (Not available on the Mac App Store version of ScreenFlow).
Recording timer
Need to record a webinar, and don't want to stick around till the end? With ScreenFlow's Recording Timer feature, now you can set the duration of time (in minutes and seconds) you want ScreenFlow to record. When the time period has elapsed, ScreenFlow will stop recording and launch the editor window.
Paste a clip into an existing gap in the timeline
Now you can choose to insert a text clip, an annotation clip or any media in your library to fill an existing gap in the timeline. No need to adjust the size of your new clip to fit the available space – this handy feature does it for you.
And much more including:
Use "JKL" keystrokes for fast forward and rewind
Use zoom gestures for quick navigation
Add starting and ending transitions in one click
View the timecode in the timeline
Scrollbar navigation for preview area
Set a default duration for actions and transitions
Crop media using a numerical crop option
Export a single frame of your video to a PNG file

Stay up to date with the latest technology
Fully 64-bit in OS X 10.7 Lion and above
Break free from memory limitations! ScreenFlow 4.0 runs as a fully 64-bit application under OS X 10.7 Lion and above which improves overall performance, memory usage, export speed, and scalability.
High quality recording on Retina Displays
Fully optimized to record up to full 2880 x1800 resolution, giving you pixel-perfect full-screen clarity with low file sizes.
Fully ColorSync-enabled rendering
Uses the OS X built-in color management system for increased fidelity of preview and export videos.
Screen recording performance
Improved performance of screen recording on 10.8 (across retina & non-retina machines)