Engage your remote congregation with live streams of your services and events
Worship services should be powerful.
Those attending your worship service are the lucky few to experience what you have to offer. Every week your congregation is empowered and uplifted by positive and life changing messages. Now imagine reaching twice as many people on a weekly basis. What about four times as many, or even more? What about those who may not be able to attend every week?
With live streaming and video technology on the rise, and the prolific availability of user-friendly hardware and software, now is the best time to begin broadcasting your worship services over the Internet. We can help you understand the basics of church streaming, and offer suggestions that will help you to establish a successful, budget-conscious live streaming setup.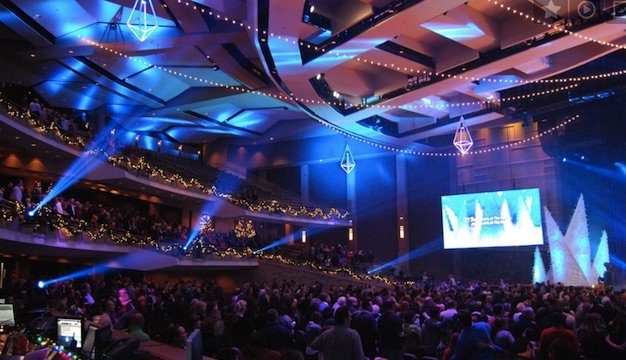 Reach out and touch more people with Telestream's Wirecast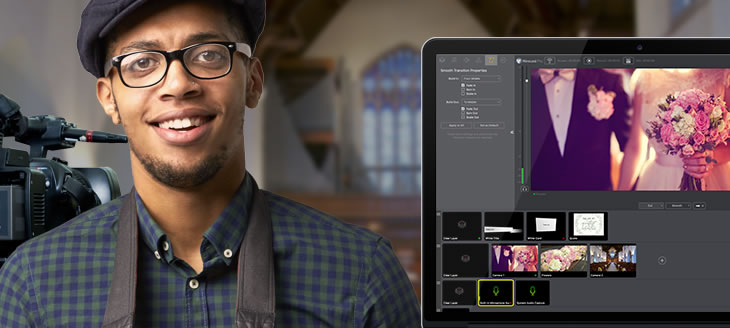 Wirecast is used in churches, synagogues, mosques, monasteries, temples, ashrams and retreats all over the world. Some communities and organizations use it to broadcast their weekly services to Churchstreaming.tv, Facebook or YouTube. Others use it to build closer ties within far-spread congregations. Whether you decide to expand your audience and reach beyond your four walls with your message, or whether you use it to reach those within, Wirecast has the features you need.
What worship leaders are saying about Wirecast
Wayfarers Chapel Uses Wirecast to Live Stream their Ceremonies

Background.
Overlooking the Pacific Ocean on the Southern California coast, Wayfarers Chapel has been hosting weddings and Sunday services for over 60 years in its intimate 100 seat venue. Sponsored by the Swedenborgian Church and designed by Lloyd Wright, son of the renowned architect Frank Lloyd Wright, it is commonly referred to as "The Glass Church". Hosting many hundreds of weddings a year, Wayfarers historic architecture and picturesque location make it a destination wedding location attracting couples from the world over. To satisfy demand, Wayfarers can provide services for up to 6 weddings a day, 300+ days a year.

Challenge.
When Steve Smith and his business partner presented their proposal for a multi-camera, remote control, live streaming solution to the Chapel, they had made the decision to use Wirecast as the tool to build around. They set out to put together a system that could handle multiple input switching, titling, audio, ISO recording, local program recording, and streaming. With the incredible volume of weddings at the Chapel, there needed to be a way to get the final product to the married couple as soon as possible, while allowing those who could not attend to be a part of the proceedings from remote locations. Wirecast allows them to do all of this and more.
Solution.
By taking advantage of both the live streaming and local recording capabilities of Wirecast, Steve and the Wayfarers Chapel are now able to accomplish all of their goals. With a team of just two, Steve and his partner are able to live stream ceremonies to family and friends who cannot attend and are currently reaching out to local venues about the possibility of streaming the ceremony live to the reception. Along with the live broadcast of the ceremony, Steve is able to record the live stream to produce a professional quality wedding video, edited and formatted for DVD or uploaded to the internet—by the time the bride and groom arrive at the reception.
See how other religious organizations are using Wirecast


Resources to help you learn how to set up your worship streaming system
e-book: Church Broadcasting on a Budget
This e-Book will help you understand the basics, and offer suggestions that will help you to establish a successful, budget-conscious live streaming setup for your church. Learn what tools you need to capture content, repurpose it for live streaming and share it across the state, country and even the world.
e-book: Cost-Effective Live Event Streaming
Starting from scratch can be a daunting prospect, so we have put together this e-book to help you understand the basics, and offer suggestions that will help you to establish a successful, affordable live streaming setup.