Expand Your Vantage Workflow
Combine Vantage servers into a resilient Array,
to efficiently and reliably automate file-based media workflows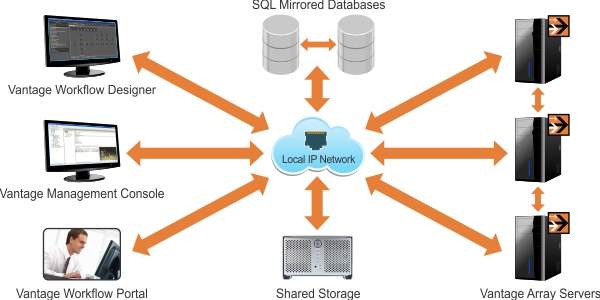 Vantage Array
As file-based workflows become increasingly demanding, large-scale content providers and distributors cannot afford interruptions in their critical workflow environments. This is especially true in mission-critical commercial workflows, time-critical news workflows, and high-volume content repurposing environments.
Telestream Vantage® Array ensures continuous, 24/7 job processing in these critical environments. It extends the power of any Vantage system from a single server to an array of servers working together to process jobs in a highly efficient and secure manner.
Intelligent, task-level load balancing distributes individual tasks within each job across all servers for reliable, high-volume output. Auto-failover protection ensures that if any one server – or even software service – should fail, unfinished tasks within each job are resubmitted with one of the remaining machines so that the entire job can be completed without interruption. Support for SQL Database Mirroring ensures that all job information is backed up with automatic recovery mechanisms
No Single Point of Failure
Distributed control in a peer-to-peer redundancy architecture ensures that there is no single point of failure in the Vantage Array that will ever bring your system down.
How It Works
A Vantage Array is a collection of Windows servers running Vantage Windows services, which communicate with each other across a network. As each step in a job executes, tasks are individually allocated to servers based upon each machine's queue, and its actual CPU and network load, dynamically optimizing system throughput as the job executes.
Load Balancing
When a job executes, each task in the job is independently load-balanced across available servers. Load balancing is performed in a peer-to-peer fashion, where the Windows service completing each task is responsible for choosing the next machine. This avoids "master control" bottlenecks and creates a highly resilient workflow automation system.
Priority and Automatic Pause-And-Resume
Tasks can be prioritized so that a higher priority task coming into a machine will advance to the head of the queue for processing. High-priority transcoding tasks will also automatically pause lower-priority tasks; those tasks will resume automatically once the higher-priority task is complete.
Task Routing
Load balancing can also be influenced using Qualification Rules applied to each Vantage Windows service participating in the Array. This allows the administrator to affect the suitability of each server or service in the Array for each task in a job, while the  workflow  is  designed.
Should one of the Vantage Windows services within the array fail, any active tasks – including Watch actions – being performed by that service will be taken over by one of the other remaining services in the Array, and processing continues.
If an entire Vantage server fails, all executing services on that server  will  be  recovered  in  the  same  manner.
Database Mirroring
Vantage Array supports the use of SQL Standard and Enterprise database mirroring. The SQL "Mirror with Witness" model is supported and ensures that Vantage is connected to a highly resilient and failsafe database.
Shared Storage
Vantage Array requires shared storage, as each task may be independently load balanced and all files involved in the job must be available over the network.
Job and System Status and Monitoring
The Vantage Management Console allows a full system view of all running Vantage Windows services and jobs in the Array.

Download the Vantage Array product sheet