Powerful System Management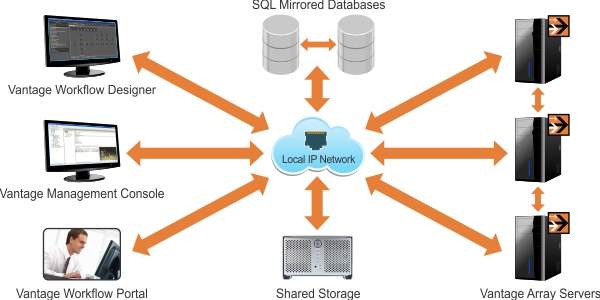 Peer-to-Peer Clustering
Vantage Array allows you to cluster multiple Vantage servers in a fully load-balanced and redundant configuration, offering active N+1 redundancy with automatic recovery and no single point of failure. Vantage Array offers robust capacity expansion, allowing you to scale to dozens of servers for mission-critical and high-volume media processing.
For large-scale or mission-critical workflows, Vantage® provides a high level of visibility and a deep level of management and control. Vantage offers the only truly scalable solution for file-based transcoding, device interchange, automated content production, broadcast operations and multi-channel distribution.
More Throughput, Fewer Servers
Vantage offers the industry's leading task scheduling, which is both cost-based and CPU-aware. It automatically responds to fluctuations in processing or media loads, ensuring optimal hardware utilization and offering as much as 30%-50% throughput improvement over competing transcoding products. This results in hardware cost savings, less power and cooling, and fewer servers to manage.

Predictability and Visibility
With web-based dashboards, customizable load balancing and retry rules, plus reporting capabilities for capacity planning, Vantage provides true visibility into the workflow and the sound knowledge that work will be done as designed.
Scalable, Rock-solid Server Software
Processing can take place on one or multiple load-balanced servers providing high-volume processing to meet your exact media workflow needs. For critical workflows, priority-driven scheduling, distributed control and auto-failover ensure that there is no single point of failure, and no barrier between you and your workflow needs.