FlipFactory Users:
Simplify your transcoding and workflow automation processes by moving up to the expanded capabilities of Telestream Vantage products. As a FlipFactory user, you now have access to significant savings*. There's never been a better time to trade up. Contact us to learn how.
Why Trade Up?
Vantage will make your job easier
◊ Add integrated analysis and automated decision-making for fewer hot folders and factories
◊ Centralized tools for setup, maintenance and licensing
Vantage gives you faster transcoding and more throughput per server
◊ CPU-aware load balancing increases throughput on your existing hardware
◊ Add Telestream Lightspeed Server for blazing-fast GPU acceleration
Vantage lets you do things you've never done before
◊ GPU accelerated transcoding and packaging for adaptive bitrate workflows
◊ Manzanita multiplexing and GPU acceleration for IPTV and cable transcoding
◊ Add integrated digital delivery, QC, analysis, metadata transformation, and more
◊ Create powerful workflows with automated decision-making and self-healing processes
◊ Increase quality and reduce H.264 bit rates by up to 20% with x264 encoding technology
Act now!
Trade up to Vantage and SAVE!
Contact your regional sales manager or reseller – or email enterprisesales@telestream.net for more information.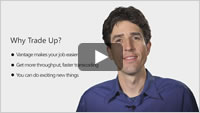 Product Manager John Pallett explains more reasons to trade up to Vantage.
*Discount is subject to original purchase date and support status.