Certified Turnkey Systems
Robust, portable, certified systems
ready to use starting under $5,000
Purchase a Certified Turnkey System
Easily record all original video feeds (ISO recording)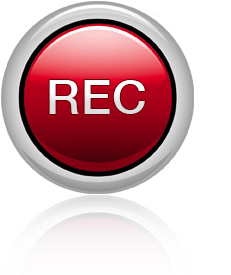 Record all your video feeds for post-event editing or future archiving. Matrox VS4 sends your video feeds to Wirecast for live production and streaming and allows you to simultaneously record all your original video feeds to disk (Matrox MPEG 2 I-Frame codec at up to 300 Mb/s in HD). Plus, now you can capture to DV, DVCam, DVCPro, and DVCPro HD all in a .mov wrapper, so that you can use any nonlinear editor, e.g. Apple, Avid or Adobe, Mac or PC.
After your live event, all the high-quality original material is available for creating trailers, promo packages, VOD content and new projects.
Full HD 1080p live streaming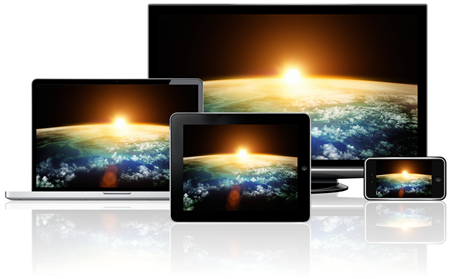 1080p Streaming
Wirecast lets users stream in both SD and HD (1080p) to live streaming services or your own internal streaming server.
Stream to multiple destinations and bitrates with just a few clicks.
Record your output to disc
Wirecast also lets you save your production to disc for future archiving or on-demand distribution.
Virtual Camera Out (Windows only)
Wirecast output can also be picked up as a camera source in other devices or software such as Skype, Google Hangouts and GoToMeeting.
Streaming Formats
QuickTime (MainConcept H.264)
Flash (On2(VP6) and MainConcept H.264)
Windows Media
Streaming Protocols
Green Screen,
Virtual Sets and more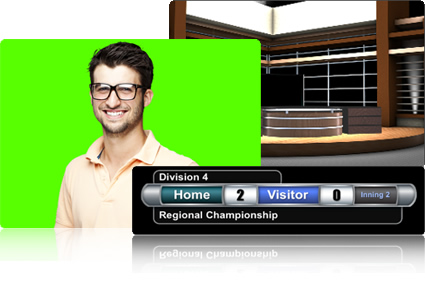 Up to 35 layers on screen simultaneously
In addition to your live video sources, Wirecast makes it easy to mix your live feed with pre-recorded video clips, titles and graphics. Switch and mix at will, compositing up to 35 layers on screen simultaneously.
Transitions
Add polish to your broadcasts with professional-looking transitions – from simple cuts and dissolves to cross-fades, 3D cubes, swinging doors and more.
Titles/Lower Thirds
Easily add titles and lower thirds to your broadcast, with more than 30 built-in professional broadcast quality title themes. Pick your favorite, enter your text and you're done.
Composite Templates
Benefit from 10 different composite templates. Make a professional multi-camera show using picture in picture, side by side or as many as three different sources in one shot.
Green Screen/Chroma Key
Transport your production to a new studio or location using Wirecast's high-quality GPU accelerated real-time green screen. Replace your (green) background with your own video or still image background.
Scoreboards & Virtual Sets


Use the built-in scoreboard templates to track scores for live action sporting events. Customize colors and fonts to capture team spirit. Create a virtual TV studio environment. With built-in 3D images, you can place yourself in your own TV studio complete with desk and backgrounds.
Audio mixing and monitoring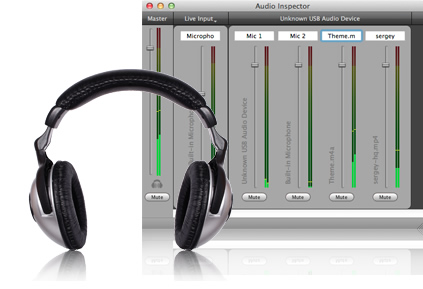 Global Audio Inspector with Sync Delay


Assign audio sources and control volume levels for your entire broadcast from one easy to use window. Use the AV sync to synchronize separate audio and video sources.
Stream to any CDN

Wirecast offers integrated setup for your streaming services with industry leaders. You can even stream to multiple CDNs simultaneously. You can stream at different resolutions/bandwidths targeting different viewers' internet bandwidth.
Streaming Platforms:
Bambuser
Brightcove
DaCast Streaming Services
iNK Barrel Video
Justin.tv
Limelight
Livebeats

Sermon.net
Showcaster
Streaming Media Hosting
New! TwitchTV
Ustream
YouTube
Note: If your streaming platform/CDN is not in the list, ask them to contact us or send us a request.
Streaming Servers:
Akamai
Wowza Media Server
Flash Media Server 4.5
Windows Media Server
QuickTime Streaming Services
Professional connectivity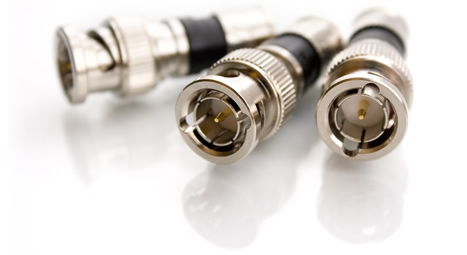 When you are putting together a live production, you don't want to be fumbling around looking for stray adaptors. Matrox VS4 provides four full size BNC connectors to connect your HD-SDI inputs with up to 8 channels of embedded audio right on the card edge.
Purchase a Certified Turnkey System

Where to buy a Turnkey Solution
Choose any of our Certified Systems Builders to assist you in putting together reliable turnkey
solutions that are ideal for your internet broadcasts of sports, religious services, corporate
meetings, and other live events.
Australia


AAVIM Technology
– blackBOX Drone Series
Chile


Ríos & Cía.
– VS4 Streaming Server
Israel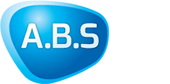 Altman Broadcast Services
– VS-4 Mini Streaming & ISO Recording Portable Turnkey Solution
Japan

Japan Material
– VS4T
Korea

Taenam
– Chameleon Live Pro
Spain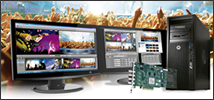 Broadcast Multimedia
– Z420 HP Workstation with Intel® Xeon® 6 Cores
United States


1 Beyond
– Wrangler StreamMachine


ADK Video Editing
– Wirecast/Matrox Live Streaming/Post Editing System


B&H Photo
– B&H Photo PC Pro Workstation Z420 Mid-Level Turnkey Video Kit

Biway Media
– Matrox VS4-PRO & Matrox VS4-XTREME Systems


Core Microsystems
– Streamcast 4000


DV/Streamline
– Streaming and Production Workstations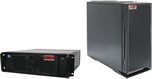 Full Compass
– Quiet Speed by Vu® Production PC Workstations

Safe Harbor
– Tsunami Force, Riptide or Surf Systems

Where to buy a VS4 Card
Purchase the VS4 card through the Matrox authorized dealers.