Customer Stories & Reviews
"We're sticking with Wirecast because it's dependable,
easy to use, highly portable, and it just works."
Education
Polar Bears International needed a powerful way to produce and stream entertaining and educational programs live from the tundra during the annual polar bear migration.
"Wirecast is a simple yet effective tool that allows us to mimic everything a large television studio would do, but from our remote location."
–
Read the case study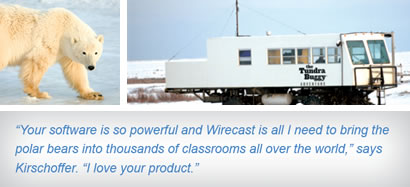 "With Wirecast 5, Telestream has significantly improved usability with a redesigned interface, beneficially expanded the product's input capabilities, and upgraded the product's plumbing with features like x.264 encoding and HD-SDI output via Blackmagic Design Intensity or DeckLink cards. All told, these improvements make the $129 upgrade price ($295 for the Pro version) a no-brainer decision."
Streaming Media Producer, 1/2014
Read the review

Wirecast earns the
5 Star Editor's Pick
Award from
Software Informer.
Read the review
"We tried and tested every software product available to stream our video podcast live over the web and Wirecast is the clear winner."
–Brian Alves, the DV Show
Read the review
Live Events

"With Wirecast, I don't need a TV tower or contract with a cable company. It allows me to easily be on-air with worldwide audiences."
Sports

"We explored several other live streaming alternatives. However, we kept coming back to Wirecast, as it offered a very high production value at a competitive price."
Education

Deep Earth Academy takes Wirecast to the bottom of the sea for Educational webcasts
Live Events

"Wirecast took us from local to global. This little piece of software delivers absolutely everything in the most perfect way. I can't wait to find out what the future is going to look like as they take this thing an unimaginable next step later."
More customer stories
More Reviews