New in Version 7.7!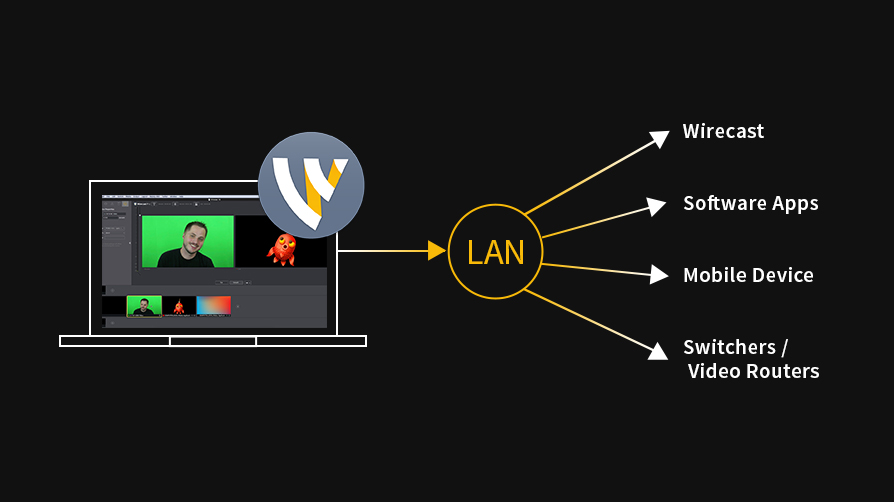 NDI™ Broadcast
(Pro only)
Go the other direction! Broadcast your Wirecast program output across your Local Area Network, using Newtek's high-quality NDI protocol. Great for sending it to other Wirecast systems on the network to share workload, passing your signal to other switchers, monitors, or any NDI-enabled apps. Requires Wirecast Pro.
Broadcast on your local network easily
Additional Improvements
We've also added smarter filtering for Facebook events, support for the Blackmagic Production Camera 4K over Thunderbolt, and more. Read the Release Notes for a complete list of fixes and changes.
Version 7.6 and earlier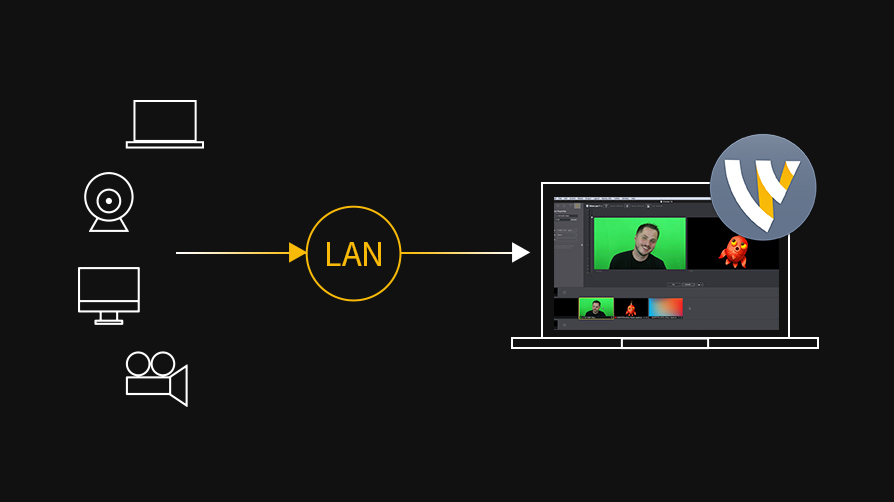 NDI™ Capture
We've added support for NDI sources. Now it's even easier to bring IP video sources from your workgroup into Wirecast across your local network. Wirecast will automatically detect and receive any IP video source that is broadcasting via Newtek's high-quality, low-latency NDI protocol. High-res live video signals (from cameras, Adobe Creative Cloud apps, etc.), graphics (like Newblue FX titles), scoreboards and screen captures sessions can now be transmitted effortlessly across your network and pulled into Wirecast to make your streams great.
Connect more sources instantly
Version 7.5
A Powerful New Destination
Stream to Periscope/Twitter
Send professional, high-quality live streams to one of the world's leading social media and real time news platforms. Just select "Periscope/Twitter" from Wirecast's output destinations, login to your account and start streaming! You can choose to preview your streams on the platform, or start and stop them automatically with Wirecast. Choose to notify your followers when you go live, or not – it's up to you.
Version 7.3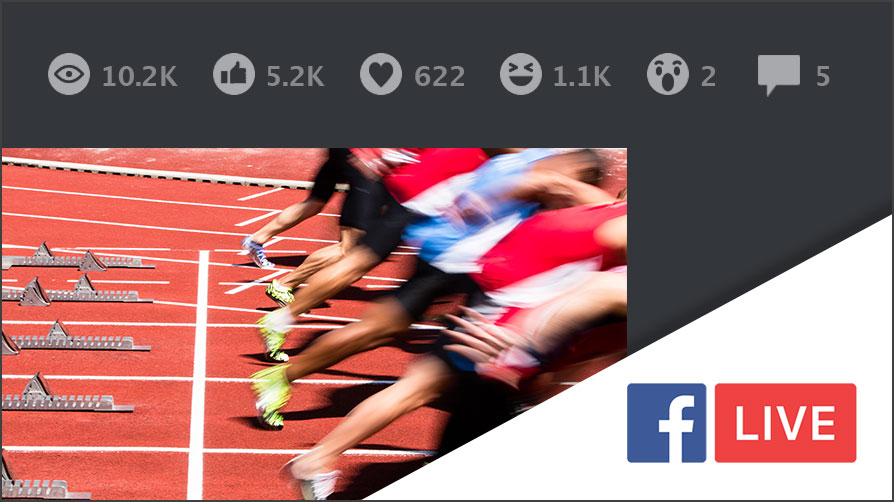 Real-time Facebook Viewer Stats
Keep track how many people are watching, commenting and sharing, and adding emoticons on your Facebook live streams with our convenient real-time stat counters. Now when you stream live to Facebook as your destination, Wirecast will display 8 tallies in the main window, so you can quickly keep track of total viewers, likes, hearts, angry faces, and comments.
Engagement with your audience just got easier
Learn more: how to stream to Facebook Live tutorial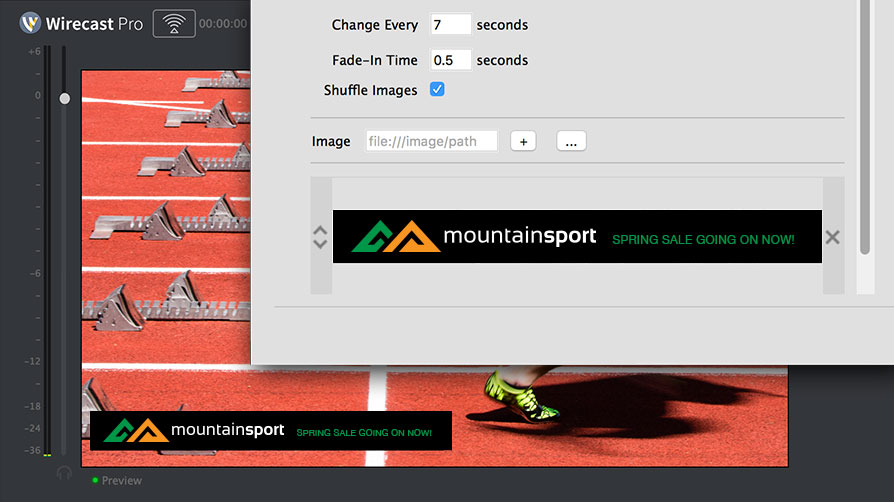 Image Playlist
Easily create a dynamic slideshow using the the new "Image Carousel" source. This is perfect for advertising your brands, sponsors or channel information. Simply an add image carousel to any layer, shot or playlist in Wirecast, then select as many images as you want of any size (GIFs, JPEGs, PNGs, TIFFs, etc.). Wirecast will automatically generate a looping slideshow with a dynamic morphing transition from image to image.
Create dynamic slideshows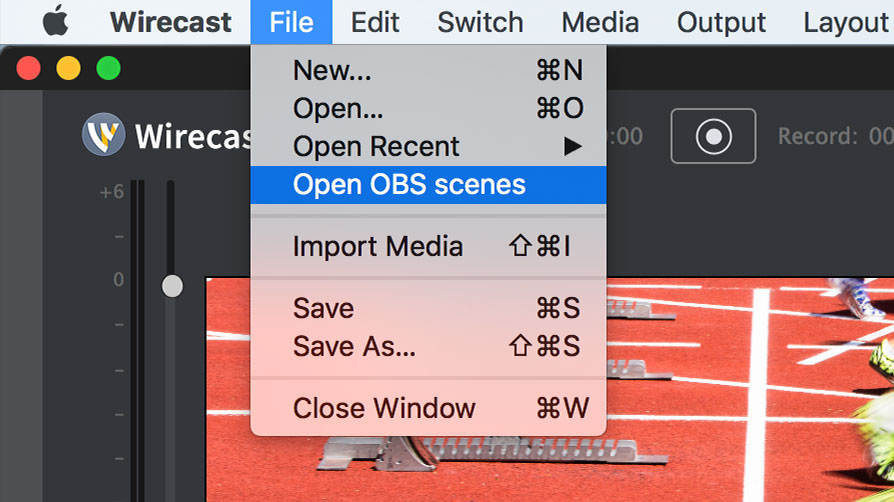 Import OBS Scene Collections
Wirecast can now quickly convert OBS scene collections directly into Wirecast documents. For OBS users who decided they need the rich features and intuitive usability Wirecast offers, we've made the transition as painless as possible. If you've spent hours setting up your OBS scenes ("shots") and getting your projects just the way you want them, you don't have to start over from scratch. Just open your OBS scenes in Wirecast and it will convert them into a new .WCST file for you!
OBS users welcome!
Version 7.2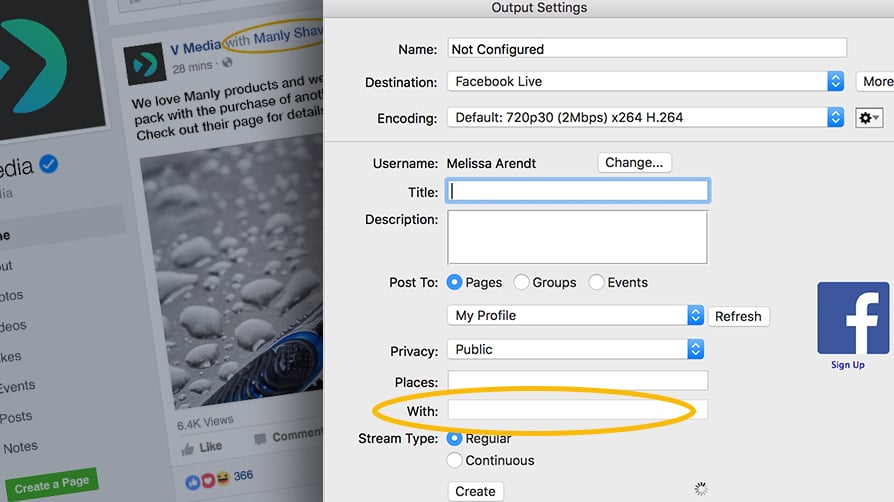 Stream Branded Content to Facebook Live
Verified Facebook pages (pages with the blue checkmark) can share branded content on Facebook. Branded content is typically posted by media companies, celebrities, or other influencers. Using the Wirecast's new "with" field in the Facebook destination output settings, you can attribute your live posts to other verified sponsors which allows them to cross-promote and post your streams, share logistics, and boost your content.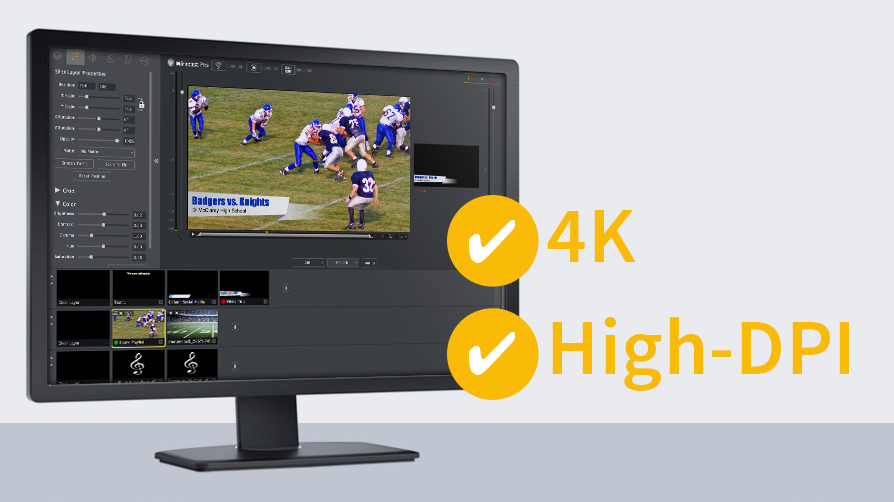 Support for High DPI Monitors on Windows
Wirecast will now look and work beautifully on 4K monitors or high-DPI displays hooked up to your computer. We've expanded Wirecast's excellent Retina Display support to now include Windows monitors and high resolution displays. Wirecast's clean, uncluttered user interface will look sharp and crisp on high-pixel density screens so you can focus on your live production and video stream quality.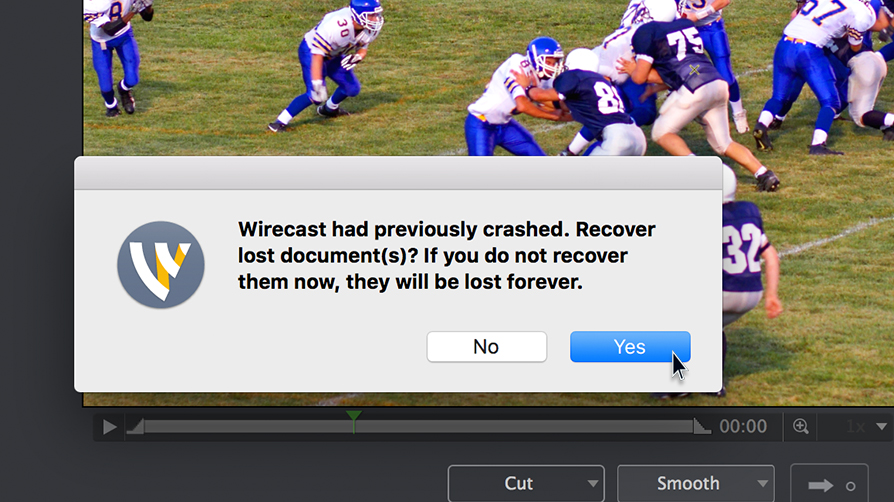 Auto-Save Recovery
Don't lose your work! Wirecast 7.2 will recover your un-saved changes to your Wirecast document files (.wcst files) if your computer crashes or is improperly shutdown. Now you won't lose your changes if the worst-case scenario happens. This adds an extra layer of safety and reliability to Wirecast's operation.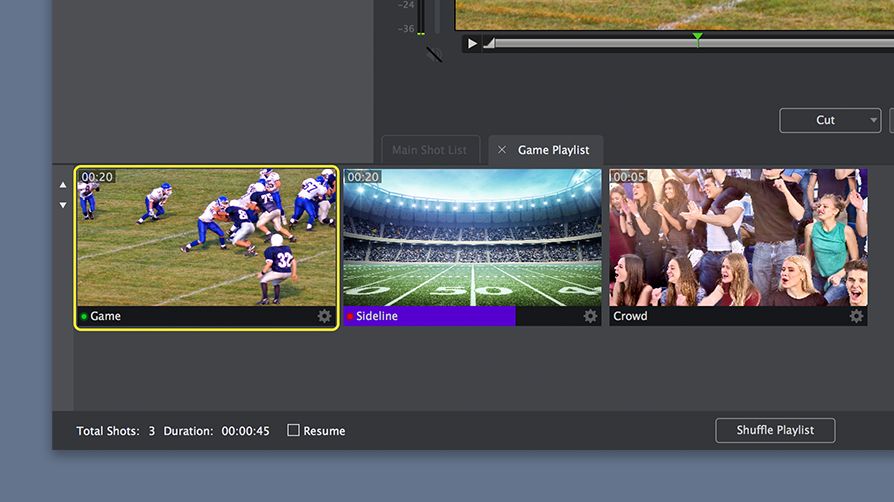 User Interface & Control Improvements
We keep making small improvements to keep Wirecast the award-winning, easy-to-use experience you've come to know and love. We've added progress bars to media clips and playlists in the Shot List, so you can monitor their progress when they're live. You can now lock aspect ratios for sources in the Shot Editor, as well as "stretch to fit" if your source doesn't match the canvas aspect ratio.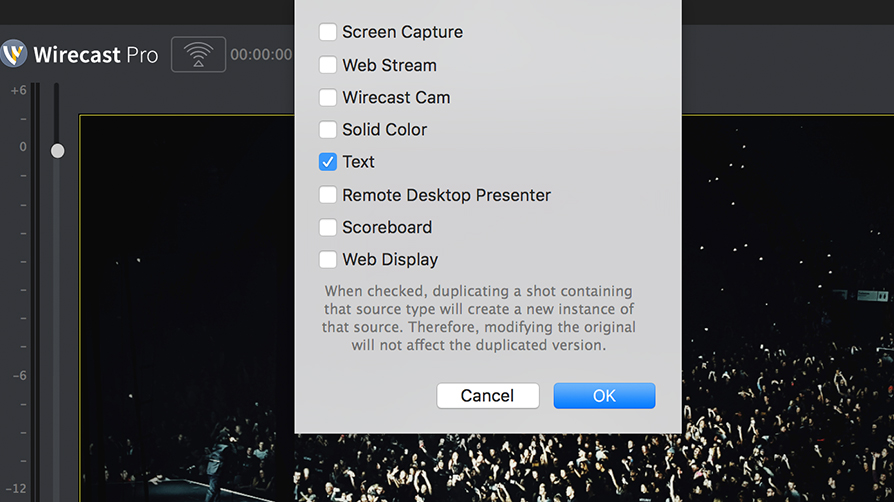 Customize Shot Duplication
Wirecast makes it easy to duplicate any shot or source for easy iteration or creating variations of existing shots. With Wirecast 7.2 we've introduced the ability to completely control which sources in the copy are identical to the original shot or are a new instance which can be manipulated or changed without effecting the original. Just right-click on any shot and choose the "Duplicate Shot Options" menu to customize how you want Wirecast to duplicate shots and a the sources they contain.
Version 7.1
More Facebook Live features for more control and visibility of your streams
Place tagging –Use Wirecast to stream to Facebook Live and your stream will show up on the Facebook's Live Map.
Groups and Events – Stream live to your groups and events, as well as to the pages you manage.
24x7 streaming – Choose "Continuous Live" to stream an unlimited live stream on Facebook – think "EagleCam" **.
Audio Effects
(Pro only)
Now add VST-based audio effects such as Noise Reduction, EQ, or Dynamics filters directly from the Wirecast Audio Mixer. Requires Wirecast Pro.

New ins and outs for better reach and increased hardware options
Improvements to webcam ingest
New I/O integration: Magewell (Windows)
New destination: Hitbox
**Please note:
Continuous live streaming will not generate a VOD on Facebook nor send live notifications to followers. Also, when the broadcaster ends the live video, the post will be unpublished from the timeline, which means only the broadcast owner will see it.
Version 7.0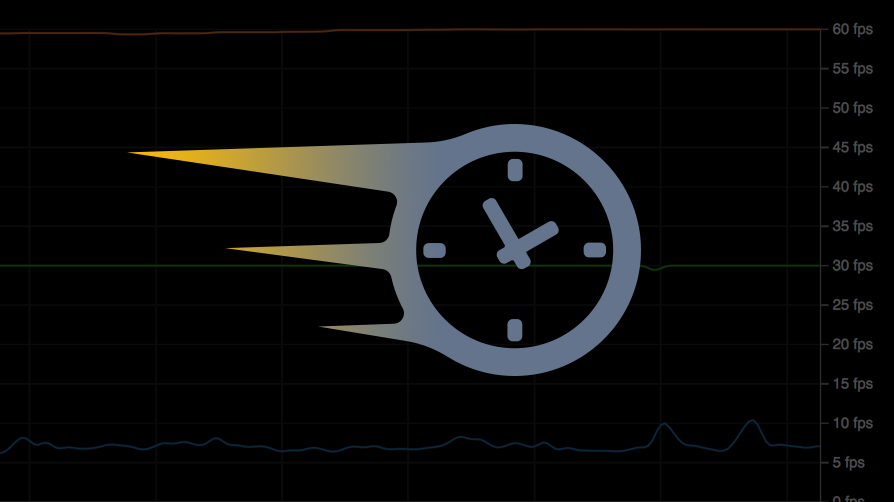 Faster Perfomance
(Mac & Windows)
GPU-accelerated encoding – Take advantage of powerful, cost-efficient hardware encoding capabilities for better performance. (Requires Intel QuickSync or nVidia NVENC hardware).
Lower CPU Usage – Wirecast 7 uses less of your CPU overall than any previous version due to performance optimizations.
Tools for monitoring – Graphic representations of System CPU usage, memory, framerate, bitrate, and RTMP Queue size help you see the strength of your stream or diagnose problems.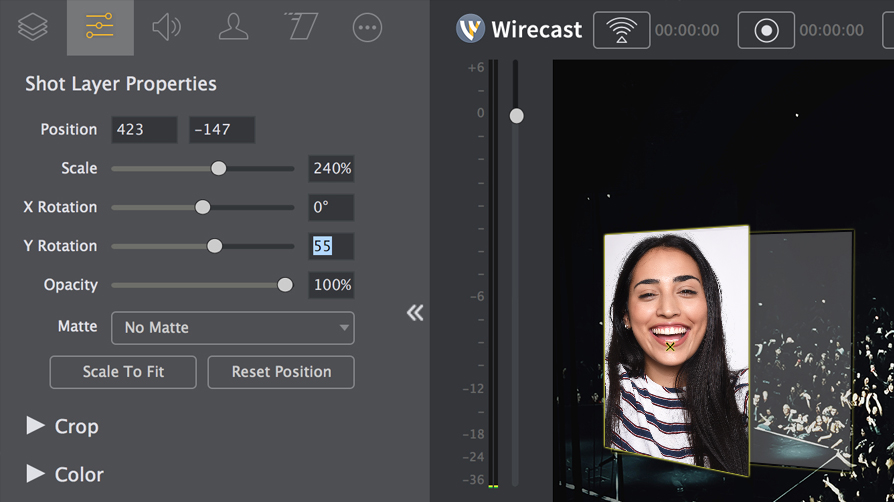 Dynamic Editor
Resize, position, crop, flip rotate, add color correction filters and more. Use Wirecast's powerful graphic editing features to compose picture-in-picture shots or layer up to 250 different sources on screen at the same time!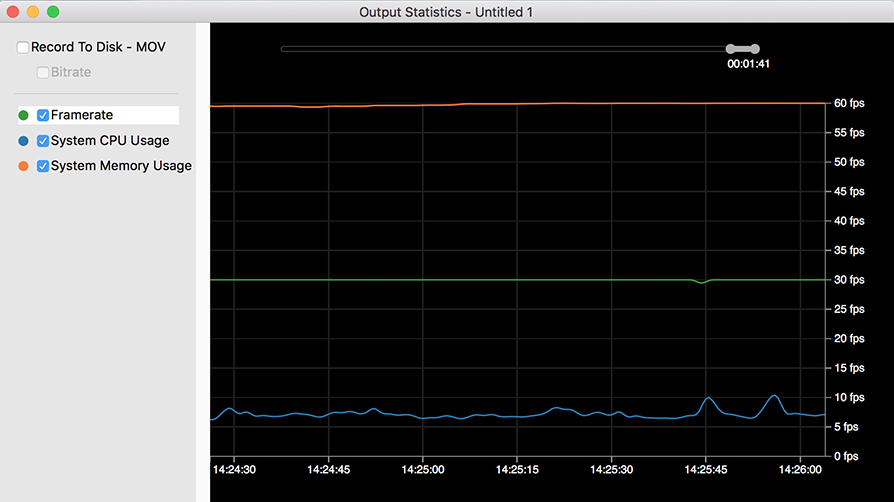 Output Statistics
Displays the statistics window for your broadcast. You can select to display: Framerate, System CPU Usage, and System Memory Usage.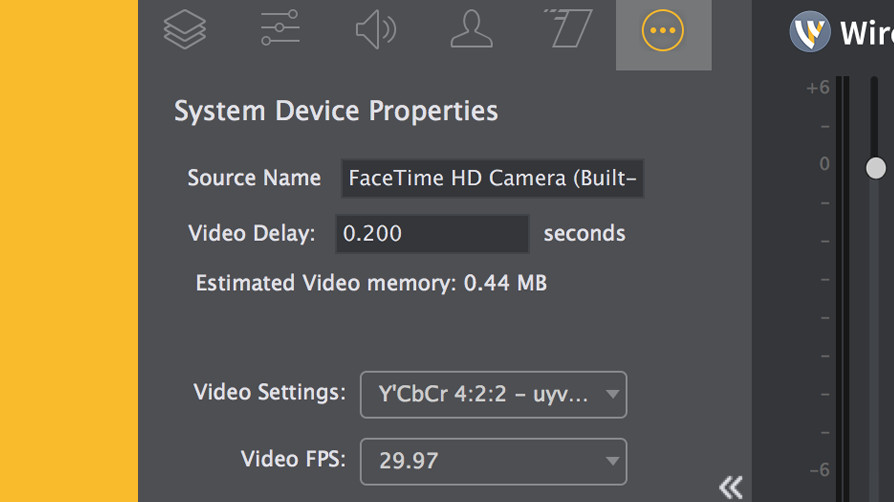 Video Sync
Delay the video and/or audio of an incoming source to better sync. Save thousands of dollars on expensive hardware.
Global Hotkey Manager
With our new Global Hotkey Management System, you can now create your own hotkeys for switching, replay or any repetitive task in Wirecast.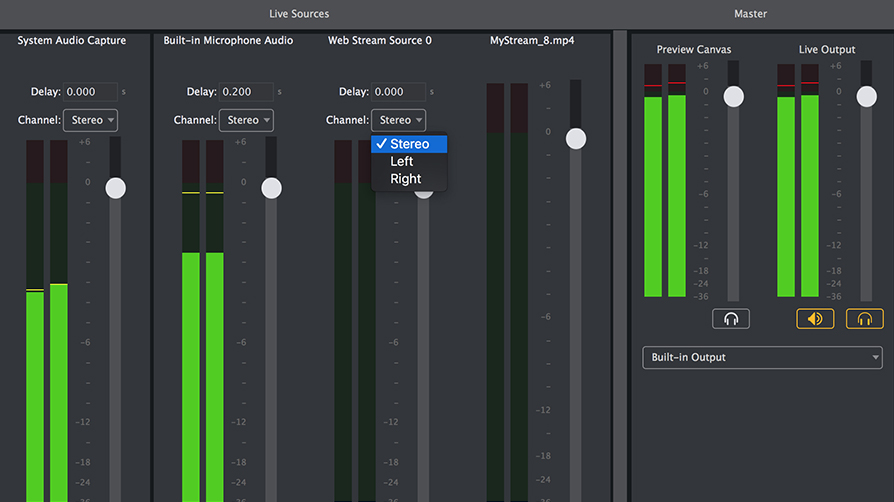 Audio Mixing
Our built-in audio mixer allows for better control over any audio source. Mix-minus, panning, solo, mute and audio playout device selection are some of the powerful new audio features we've added.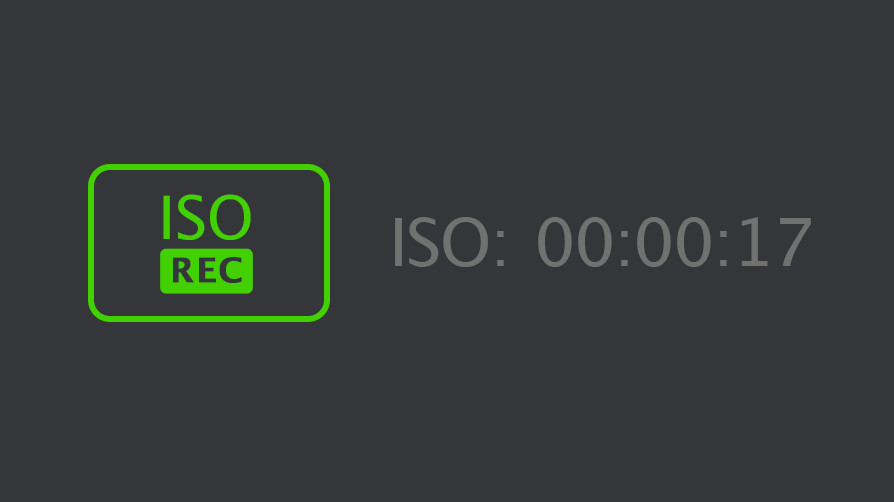 ISO Recording
(Pro only)
Create high-resolution recordings of your individual (isolated) cameras or audio sources. Isolate clean shots (no titling or lower thirds) that can be used later for editing offline or for live replay during an event. Requires Wirecast Pro.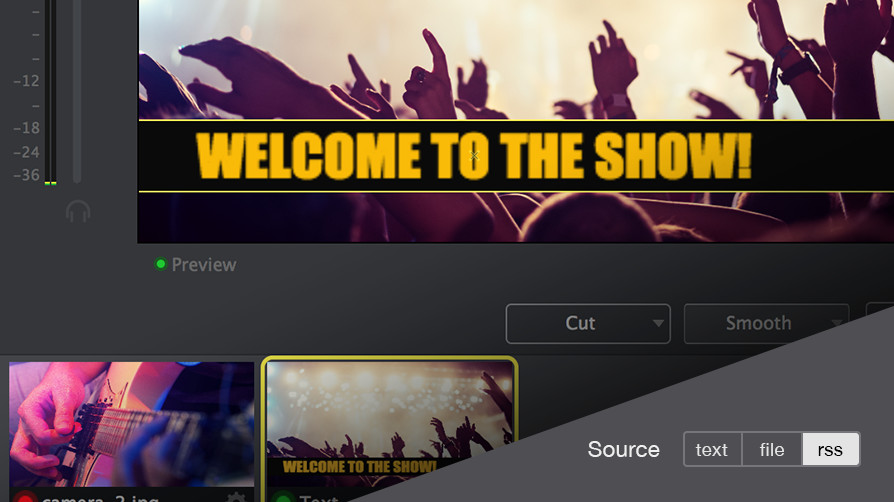 New Ways to Configure Text
Add text to your broadcast from a variety of sources: typed in text, from a file, or from an RSS feed.  Type in text and display it instantaneously.  Use file-based text monitoring to read data from an external .txt file. The RSS feed feature allows you to have a running ticker built into your shots through the text widget.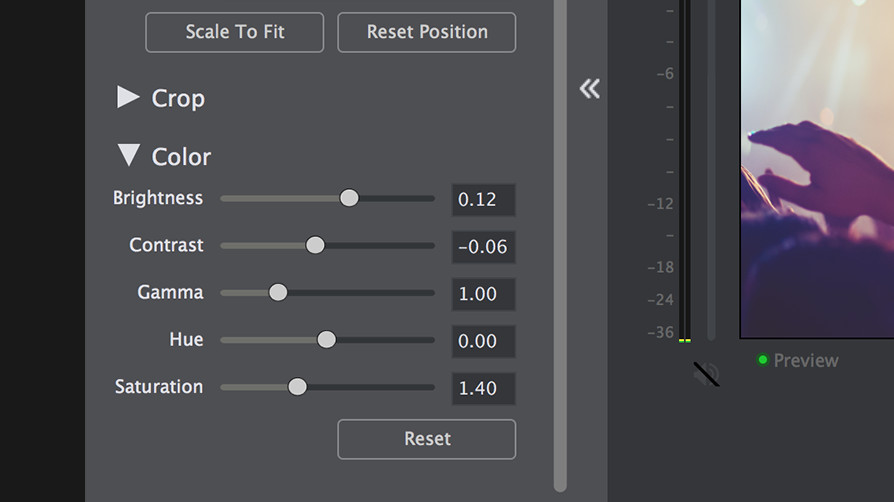 Color Correction
Adjust the brightness, contrast, gamma, hue and saturation for all of your video and graphic sources.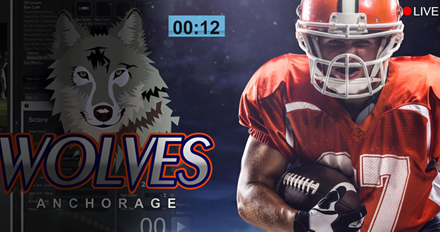 NewBlueFX Titler Live
Bring in professional animated 3D live titles, scoreboards, clocks, logos and more using NewBlueFX's Titler Live software. Titler Live Express, included with every purchase of Wirecast 7 (a $99 value), is a drag-n-drop editor with over 60 animated titles, lower thirds and motion bugs. Optional upgrades add additional features and capabilities.
And many more new features and improvements, including...
Updated, streamlined User Interface
Our new streamlined User Interface (UI) enables quicker access to shot editing features and more control over every aspect of your broadcast. This includes a new Shot Editor panel, with control sliders for modifying properties, in-shot toggles for turning off and on video and audio sources; plus an all-inclusive source dropdown; playlist tabs and more.
Audio Monitor/Mix Minus
With the new mix minus feature, you can now take out specific audio sources from your output monitoring. This lets you monitor the full stream audio output while turning off the monitoring of your own voice.
Audio Playout Device Selection
Choose where you want Wireacast to play out its audio. Select any available system audio device in the Wirecast Preferences to route all Wirecast audio to for more precise monitoring.
Redesigned Audio Mixer
Let's you control every audio source within your document from the specialized audio mixer window. Mix minus, panning, source selection, muting and individual source volume controls are all now beautifully packaged in one spot for easy audio control. This minimizes the need for external hardware and keeps your stream organized.
Redesigned Screen Capture
Replaces Local Desktop Presenter as an easy way to bring in your computer screen, or application window. Great for adding Keynote or PowerPoint slides into your broadcast.
Solid Color Generator
Add in a solid color as a source. Great for use as a background, or in lower thirds.
And many more…
For complete list of changes check our Wirecast 7 Release Notes