Automate Editing & Composition
Automated Content Assembly
Faster. Lower-cost. Fewer Errors.
Telestream Post Producer is designed to automate repetitive editing tasks for creating numerous iterations of promos, packaged content and VoD deliverables.
At the heart of Post Producer is a special set of Vantage Actions which are used to turn templates, which can be exported from Adobe Premiere CC, Apple Final Cut Pro 7 or Avid Media Composer 8, into automated processes that can produce outputs that contain multi-layered video compositions, with transition and image effects, graphic overlays, and conformed audio that are ready for distribution as high-quality output formats or transcoded to any available Vantage format.
One of these actions, the Conform Action accepts a specialized XML format called the Content Markup Language (CML). A CML describes source media, video timelines, effects and layers. These are fully conformed by Vantage Post Producer to produce output media in high-quality output formats that can be distributed or transcoded to any available Vantage format.
Conform Action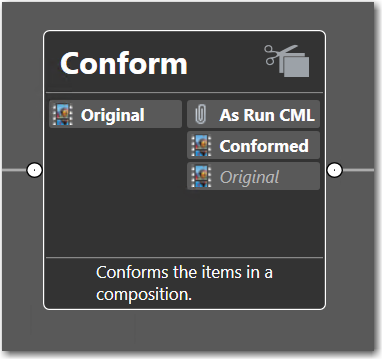 The conform action assembles source video, audio, and still image files, based on specs contained in a template, and then transcodes (or direct-converts) into an output file, based on the config specified in the action.
Gathers the referenced content, like video files, graphics, audio tracks, captions, etc.
Conforms the media files into a rendered clip, as specified in the CML file
Passes the rendered clip to a storage location, or to another Vantage workflow for multi-screen transcoding, or additional processing.