Vantage System Requirements
Vantage
Operating System: Windows Server 2016 (Standard or Data Center Edition with Desktop Experience), Windows Server 2019 (Standard or Data Center Edition with Desktop Experience), or Windows Server 2022 (Standard or Data Center Edition with Desktop Experience)
Minimum Server: Dual, Six Core Processors - or better (a total of 12 cores or more is recommended), with 16 GB DDR Memory
Recommended Server: Telestream Lightspeed Server with GPU acceleration; High-Speed NAS or SAN storage recommended; GigE Ethernet adapter
Client OSs
Windows 10, Windows 11, Windows Server 2016 (Standard or Data Center Edition with Desktop Experience), Windows Server 2019 (Standard or Data Center Edition with Desktop Experience), or Windows Server 2022 (Standard or Data Center Edition with Desktop Experience)
Web Page Server
Windows Server 2016 with IIS 10.0, Windows Server 2019 with IIS 10.0, or Windows Server 2022 with IIS 10.0
SQL Database Dedicated Server
Operating System: Windows Server 2016 (Standard or Data Center Edition with Desktop Experience), Windows Server 2019 (Standard or Data Center Edition with Desktop Experience), or Windows Server 2022 (Standard or Data Center Edition with Desktop Experience)
Minimum Server: Four Core Processor - or better with 16 GB DDR required memory. 32 GB DDR is recommended for Domains with high job volume.
Database: SQL Server 2014, SQL Server 2016, SQL Server 2019, SQL Server 2022
Note: SQL Enterprise installation may require Professional Services, contact Telestream for details.
Note - Non-Lightspeed hardware with more than 64 logical cores will require a "Vantage unlimited core license".
Note - Update Pack 2 introduces high-core count Vantage license options, to provide better support for virtual environments with high physical core count CPUs. The Update Pack installer determines the core count and displays a message if there are more than 64. The message advises that an additional license is required to fully utilize this server's CPU.
Note
- End-of-Support Date for Vantage for Windows Server 2012 R2 and Microsoft SQL 2012 as of December 31, 2022 -
Click here
Note
- Telestream ceased supporting Windows Server 2008 and Microsoft SQL 2008 as of December 31st, 2017 -
Click here
Vantage System Configurations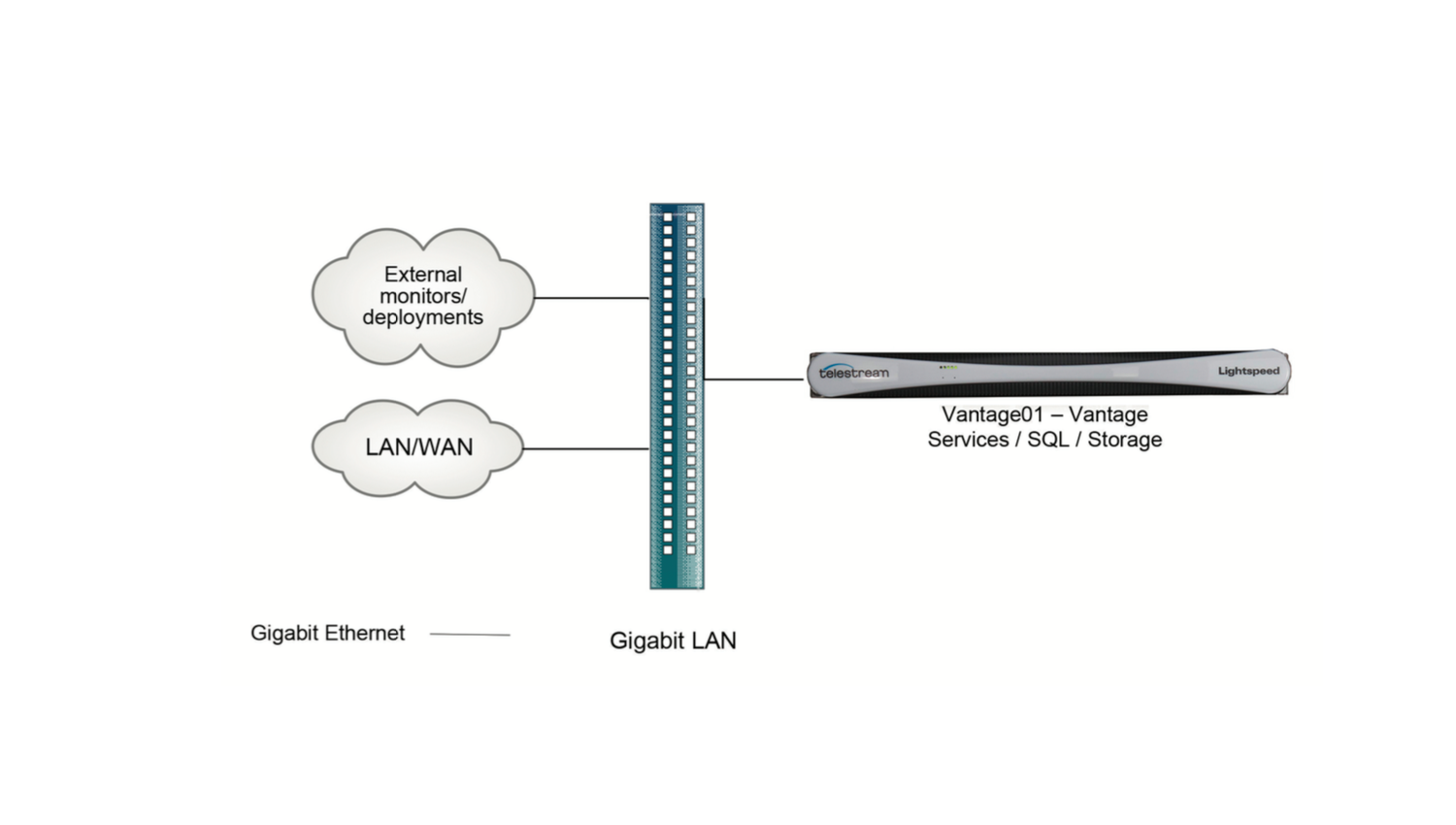 Vantage "All In One" Configuration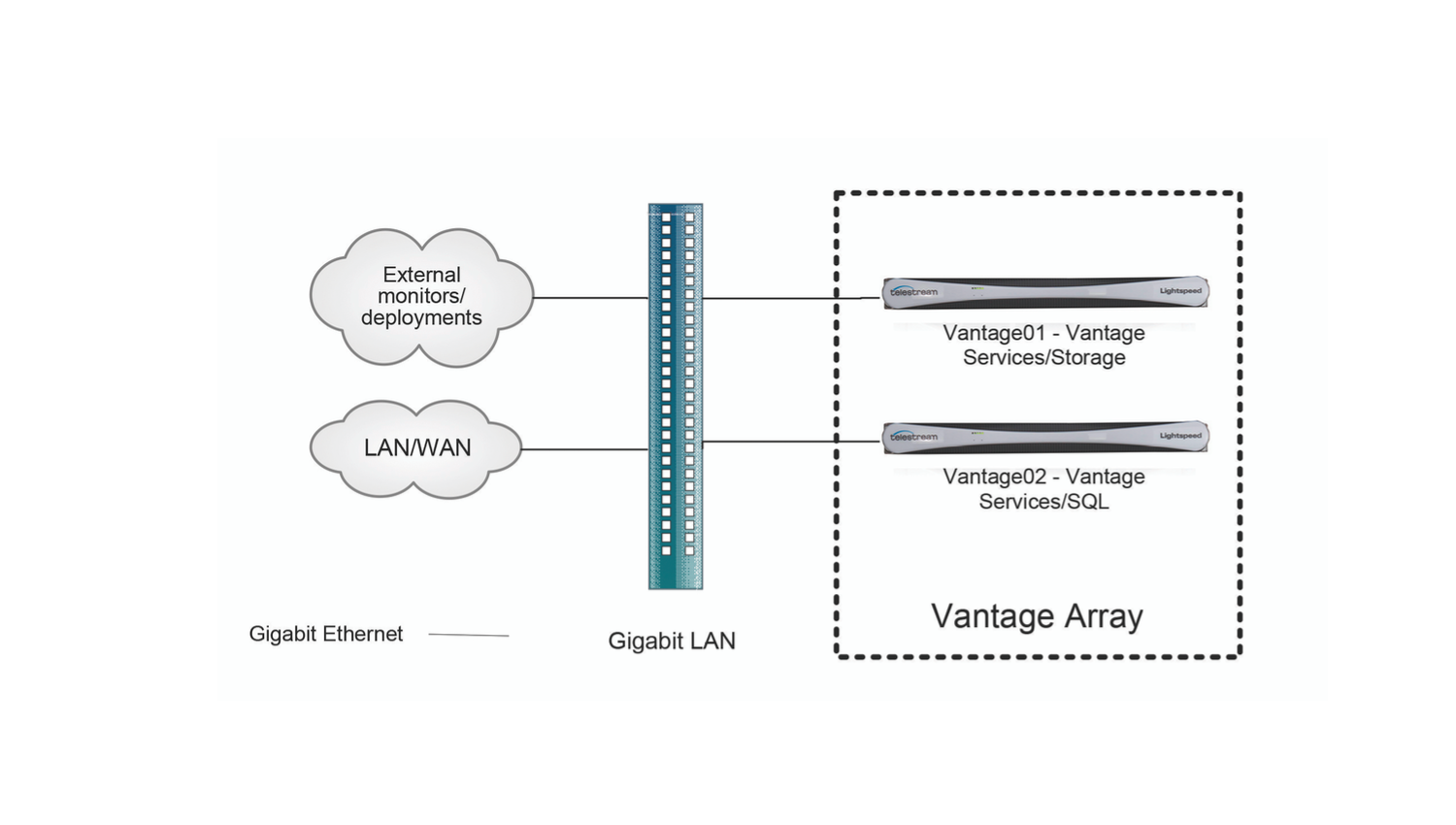 Vantage Array Configuration: "Simple Array"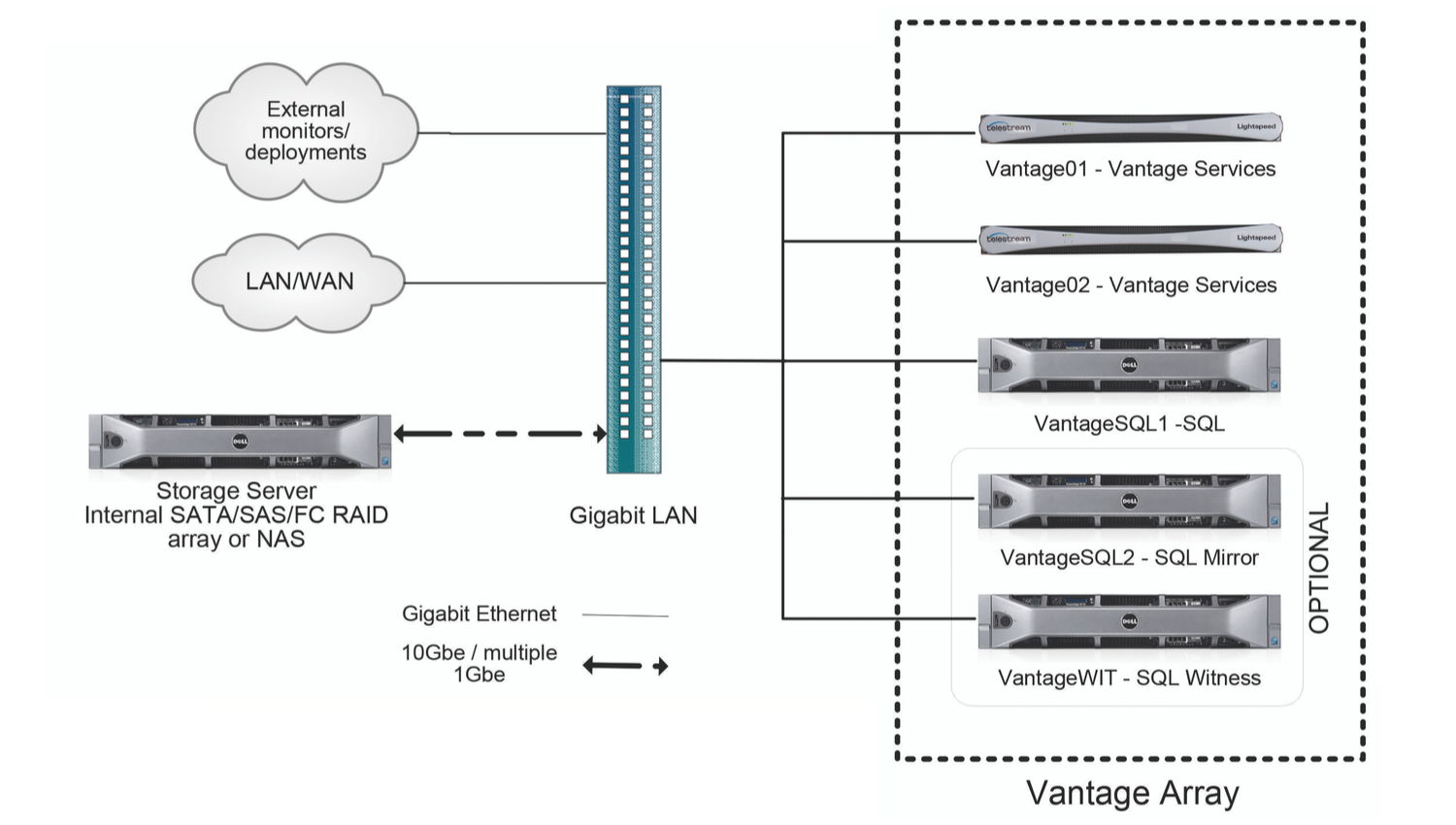 Vantage Array Configuration: "Storage Server"