Expand Your Vantage Workflow
Combine Vantage servers into a resilient Array,
to efficiently and reliably automate file-based media workflows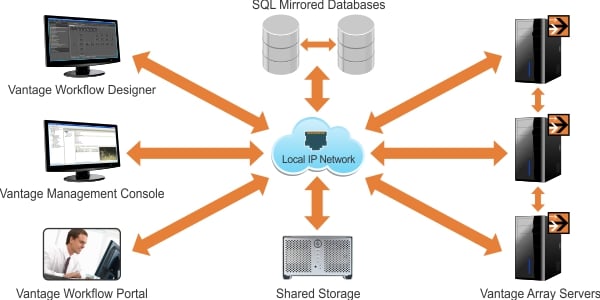 Vantage Array
Telestream Vantage® Array combines multiple Vantage systems into a network for scalability and N+1 redundancy. It extends the power of any Vantage system from a single server to an array of servers working together to process jobs
efficiently and reliably.
Task-level load balancing distributes individual tasks within each job across all servers for reliable, high-volume output. Auto-failover protection ensures that if any one server – or even software service – should fail, unfinished tasks within each job are resubmitted so that the entire job can be completed without interruption. Support for SQL Database Mirroring ensures that all job information is backed up with automatic recovery mechanisms in case any server fails in the Vantage Array
No Single Point of Failure
Array can be scaled from two to as many servers as you need to meet your
workflow throughput requirements. Distributed control in a peer-to-peer
redundancy architecture ensures that there is no single point of failure or
single "control server" in the Vantage Array that will ever bring your system
down. If any machine goes down, the system automatically recovers and
keeps running.
How It Works
Array is a collection of Windows servers running Vantage Windows services, which communicate with each other across a network. As each step in a job executes, tasks are individually allocated to servers based upon each machine's queue, and its actual CPU and network load, dynamically balancing system queues as the job executes

Download the Vantage Array product sheet