Vantage Array Pro
Telestream Vantage® Array Pro enhances the Vantage Domain with a suite
of additional power features for tuning and monitoring your high-throughput
media transformation factory.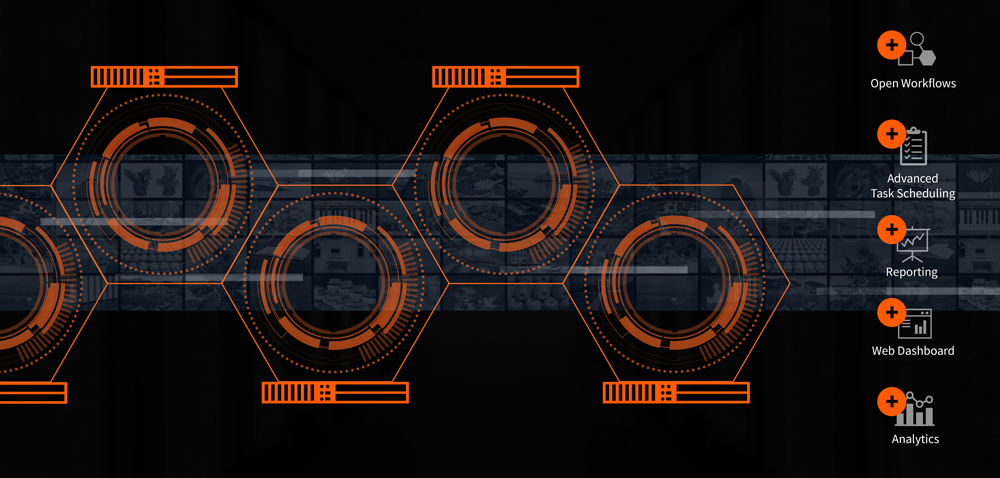 Powerful System Management
For large-scale or mission-critical workflows, Vantage offers several options to achieve a high level of visibility and a deep level of management and control. Vantage offers the only truly scalable solution for file-based transcoding, device interchange, automated content production, broadcast operations and multichannel distribution.
Job Reporting
Generates automatic or manual job spreadsheet reports. These reports can be easily configured to report job details, execution metrics, advanced media analysis properties, metadata, or any other data contained inside a Vantage workflow.
Workflow Analytics
Provides an interactive interface for generating insightful workflow analytics, including execution time analysis, bottleneck identification, utilization metrics, and more.
Open Workflow Execution
Increases processing speed of many Vantage workflows by enabling most actions to begin processing before the previous action has completed. This can drastically increase the efficiency of multistep workflows, particularly those involving the intermediate processing.
Advanced Task Scheduling
Augments the capabilities of Vantage load-balancing by adding resource management rules for any underlying resource such as compute, storage access, network bandwidth, third party licenses.
Web Dashboard
Provides administrators with remote visibility into overall system health and job status with an easy-to-use web interface. This interface can be used as a control room heads-up display or by individual supervisors to monitor the Vantage domain.
Integrate Multi-Vendor Environments
Vantage includes support for all the major broadcast servers, edit systems, streaming servers, cable VOD servers, SANs and virtually any network digital device in your facility. Vantage removes tape and signal-based steps in your video operations, enabling faster than real-time automation across the entire workflow
Scalable, Rock-solid Server Software
Processing can take place on one or multiple load-balanced servers providing high-volume processing to meet your exact media workflow needs. For critical workflows, priority-driven scheduling, distributed control and auto-failover ensure that there is no single point of failure, and no barrier between you and your workflow needs.

Download the Vantage Array Pro product sheet