Simplify Video Captioning
Streamline the process in any digital workflow

Telestream's award-winning closed captioning software products allow you to easily author, edit, encode and repurpose video captions for television, web and mobile delivery. Utilizing exclusive e-Captioning™ technology, MacCaption (for Mac) and Caption Maker (for Windows) simplify the process of complying with FCC regulatory requirements, enabling greater access to broadcast content for television, online and mobile viewers.
e-Captioning™ engine
This revolutionary technology integrates with digital production systems to prepare and encode both standard and high definition video with FCC-compliant video captions.
Encode closed captions to any file or tape format
Export captions from NLEs or DVD authoring systems
Embed captions into Web and mobile content
Extract captions from tapes, files, or live broadcasts
Email captions to your clients
Edit closed captions in a non-linear interface with
batch conversion and automated workflows
Enhance your closed captions with true CEA-708
features supported by ATSC DTV
Fast, efficient processing
MacCaption and Caption Maker provide an efficient way for you to comply with federal regulations while maintaining fast delivery of time-sensitive captioned video material.
Use existing NLEs, capture cards and video servers
Begin preparing your closed captions while you are editing
Convert closed captions to subtitles and webcast formats
Standards convert closed captions
Batch encode closed captions for any standard
Prepare closed captions for any resolution
Closed captioning for any workflow
Closed captioning for file based workflows, web and mobile, NLEs, assembly and media management, live broadcast and webcast, DVD and Blu-Ray.
Read more
Automatic Time Stamping
Our Auto Time Stamp (ATS) feature dramatically reduces the time it takes to time stamp your closed captions.
Read more

Closed captioning for any workflow
File-based Workflows
Use our products to embed closed captioning directly into files, including: MPEG-2 Program and Transport Streams, MXF, QuickTime, MCC, and more. File-based video servers and Manzanita multiplexers for CableLabs VOD are also supported.
Closed Captions for Web and Mobile
Our software provides the flexibility to create closed captions for all the popular web and mobile formats, including: HTML5, YouTube, Flash, QuickTime, iTunes, and Windows Media. It also converts existing closed captions into web formats.
HD captioning for leading NLEs
MacCaption and CaptionMaker are the only software products that enable the HD closed captioning functions of Adobe Premiere Pro, Avid Media Composer & Symphony, and Final Cut Pro. You can edit and output HD and SD closed captions to tape, file, disc, mobile devices, and the web. Output caption support is also provided from most other NLE timelines directly to SD tape.
Harness the power of your video systems
Most popular NLE systems and capture cards accept Telestream encoded caption files and map the data to the proper location in the HD or SD video signal. We also support popular playout servers.
Caption Assembly and Media Management
Extract closed captions from previously captioned video and re-export them to a variety of formats. Captions can automatically be conformed to match an edit decision list (EDL), or you can manually edit existing closed captions in an easy-to-use interface. Software even supports batch conversion and CLI scripting for automated workflows.
Live Broadcast and Live Webcast
Use our software with a hardware encoder to caption a live broadcast or to live text stream to a web site. Or, use it to caption live Windows Media webcasts. Captions can be input via speech recognition software or stenograph.
DVD and Blu-Ray
MacCaption and CaptionMaker work with all professional authoring programs, allowing you to create closed captions and subtitles for DVD and subtitles for Blu-ray.
Subtitling
Not only does our software create closed captions, but it is also an advanced subtitle creation and export tool.

Automatic Time Stamping
About Auto Time Stamp
To caption a video, you need a transcript. Then you need to synchronize, or time stamp, the transcript so that each phrase is displayed at the right time. In the past, synchronizing captions was a labor-intensive, time consuming process. Your options were limited to doing the time stamping yourself, or paying a service on a recurring basis to do it for you.
Telestream offers an Auto Time Stamp (ATS) feature for our post production closed captioning software. This feature is a huge time saver for organizations who need to caption a large volume of videos for which transcripts are available. Automatic time stamping won't always be as accurate as a human being, but since it identifies potential problem areas in the file, you can achieve the accuracy of a human being without the tedium of manually timing the entire video. This can also help you quickly identify any discrepancies in the transcript.
ATS works very well for videos such as (but not limited to): speeches, lectures, presentations, meetings, training videos, etc. which have clean audio. It does not work as well if the audio has already been mixed with music or sound effects, so it is isn't recommended for captioning dramatic content, music videos, videos with lots of background noise or low fidelity audio, such as telephone or VoIP recordings.
Requirements
An accurate transcript.
A video with a high quality audio track (i.e. good signal-to-noise ratio).
CaptionMaker or MacCaption software
Results
Automatically synchronizes each caption; no need to manually time stamp captions. (This labor-saving option takes MacCaption's and CaptionMaker's existing feature of automatically breaking unformatted text into captions to the next level of automation).
The process is much faster than real-time (15 times to 30 times faster, depending on the speed of your computer).
The software automatically detects captions with poor synchronization and highlights them in red, so you can spot check and manually correct these captions if you so choose.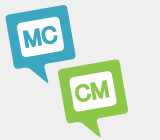 MacCaption | CaptionMaker
Telestream's award-winning closed captioning software products allow you to easily author, edit, encode and repurpose video captions for television, web and mobile delivery.

Download the Closed Captioning brochure