Looking for an ST 2110 waveform monitor, a 4K waveform monitor or an 8K waveform monitor?
Welcome to the PRISM family of waveform monitors, the only solution you need…
ST 2110, ST 2022-7, ST 2022-6 and PTP analysis at 10G and 25G
4 simultaneous SDI inputs – SD-SDI, HD-SDI, 3G-SDI, 6G-SDI, 12G-SDI
SD, HD, 4K and 8K resolutions and formats
Audio analysis and support for Dolby E/D/D+, Surround sound displays, ST 2110-30 and ST 2110-31
Objective measurement of HDR and gamma curves including Slog-2, Slog-3, Log-C, HLG, PQ content
Wide Color Gamut measurement and error detection for Rec. 709, DCI-P3, Rec.2020 color spaces
Customizable user interface with up to 8 tiles on dual screen and extended desktop
Remote access, NMOS routing, Syslog error logging
http API for easy integration

All in a compact package with no compromise on flexibility or performance.

Which Form Factor Fits Your Application?
Simply select the form factor and connectivity you need. The PRISM software does the rest.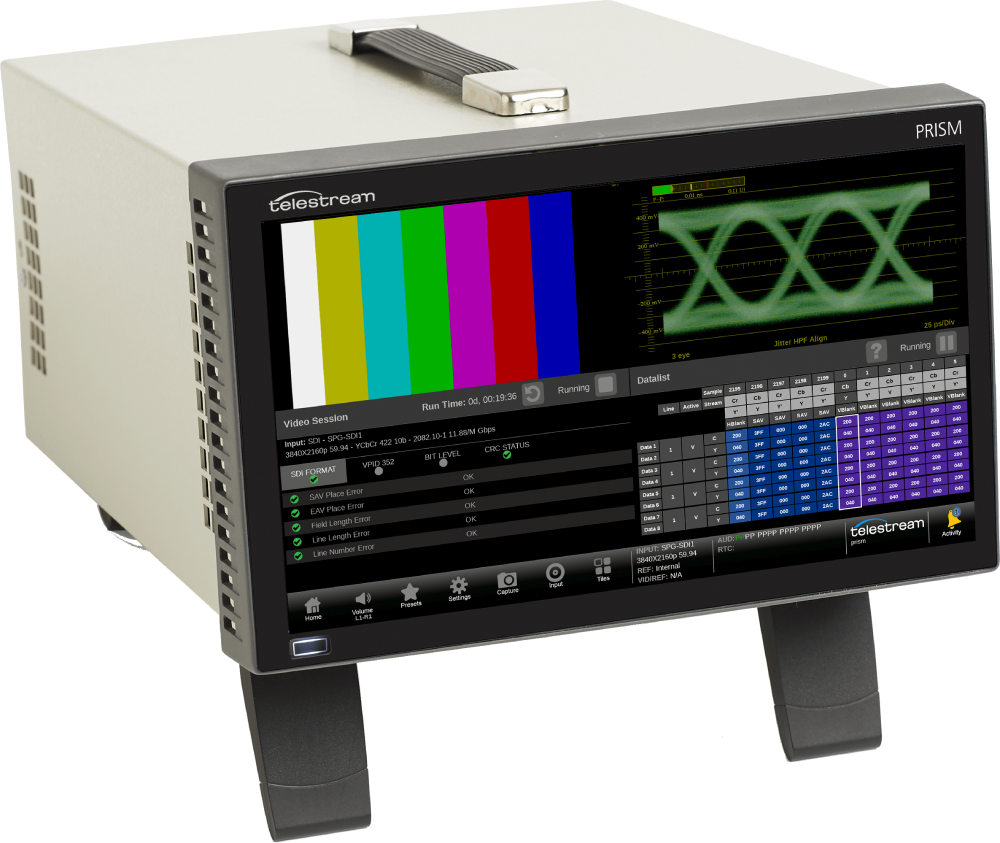 PRISM MPI2
Integrated Touchscreen
3RU height, Half Rack width, 10.5" depth
SDI and IP connectivity as Standard
Optional Eye Board
Can be racked with WFM series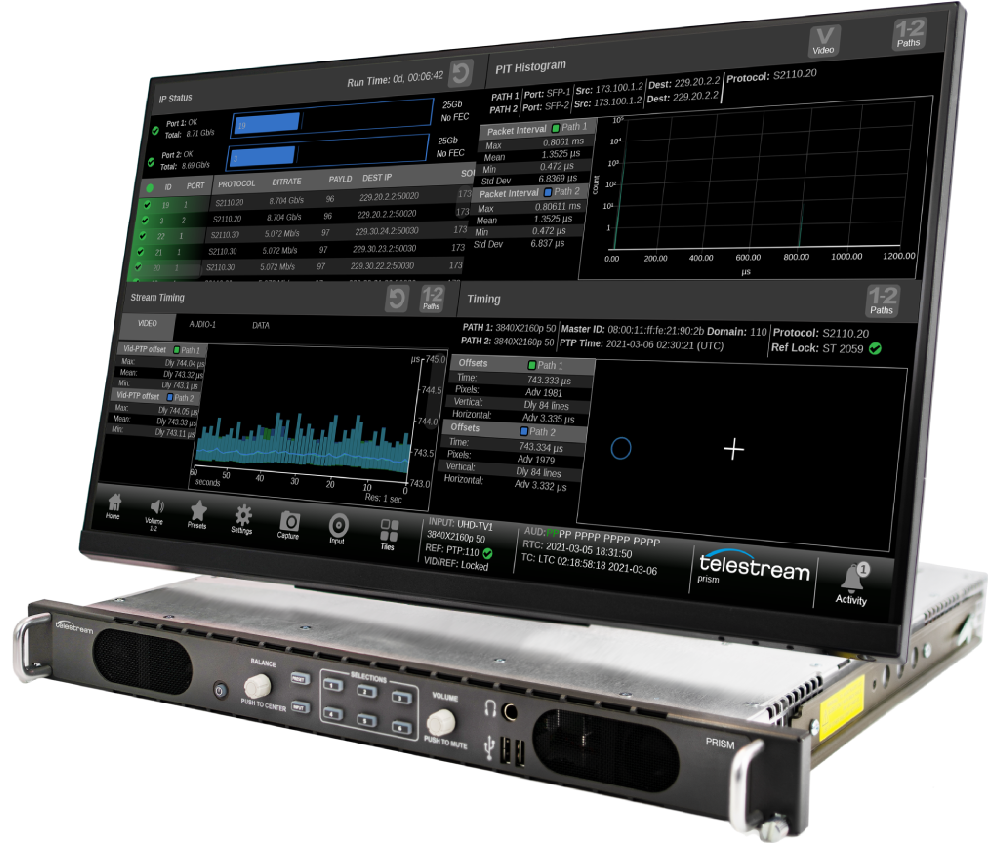 PRISM MPX2
External Display
1RU height, Full Rack width, 16.5" depth
SDI and IP connectivity as Standard
Optional Eye Board
Optional Integrated Speakers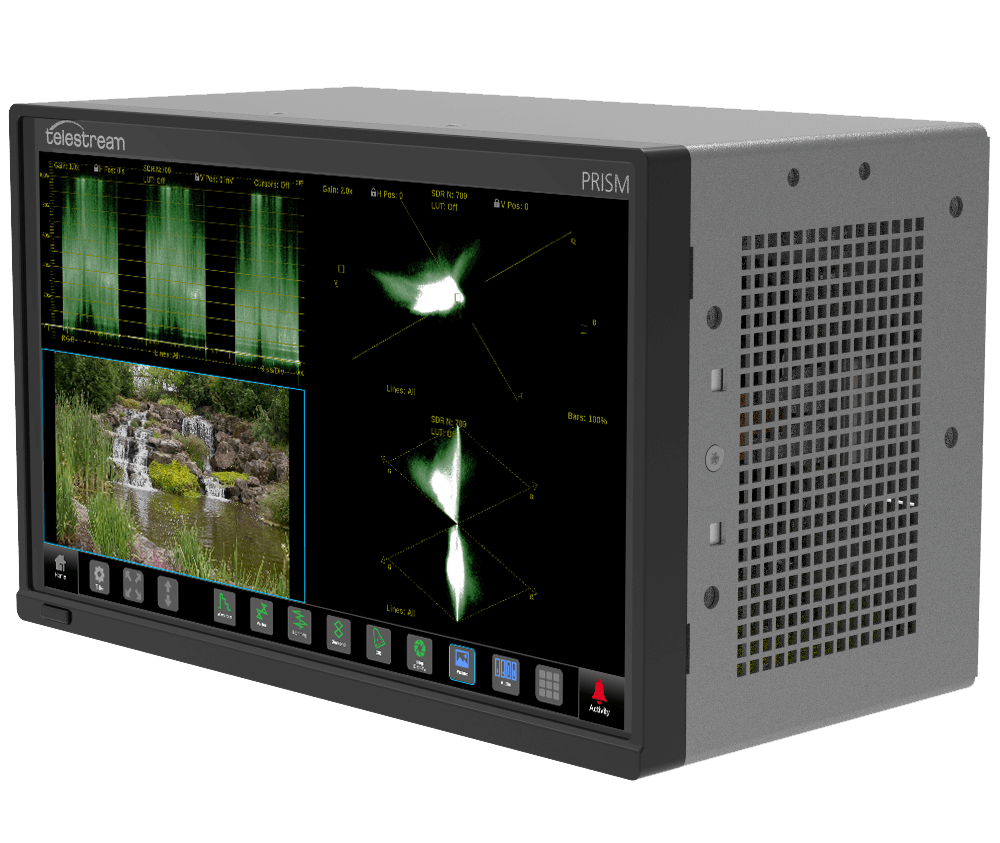 PRISM MPS Series
Integrated Touchscreen
3RU height, Half Rack width, 5" depth
MPS-100 SDI only connectivity
MPS-200 SDI and IP connectivity
MPS-300 SDI, IP connectivity with Eye board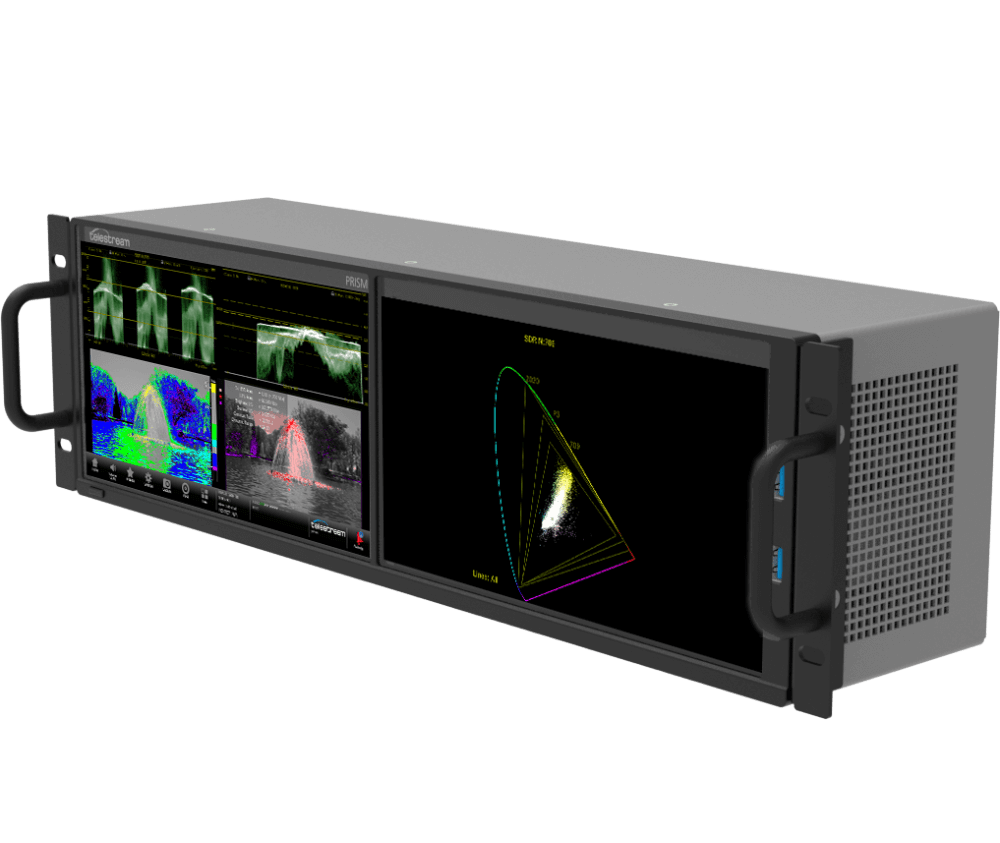 PRISM MPD Series
Dual Integrated Touchscreen
3RU height, Full Rack width, 5" depth
MPD-100 SDI only connectivity
MPD-200 SDI and IP connectivity
MPD-300 SDI, IP connectivity with Eye board
Standard Apps
Optional Apps
Expands the standard capabilities to unlock a wide range of measurement to address your specific application.
Customization and Personalization
PRISM is designed to be used in multiple applications from HD-SDI Live Acquisition to 25G ST 2110 IP Engineering and diagnostics. Software modules Options can be added any time to customize the instrument to meet the needs of job at hand.
The software based UI can then be personalized to meet the needs of the individuals on the team and how they like to work. These configurations can be stored as presets for quick instrument setup when needed.
With multiple ways to mount and install the instrument and multiple ways to interact with, and control the instrument, PRISM fits comfortably into any environment.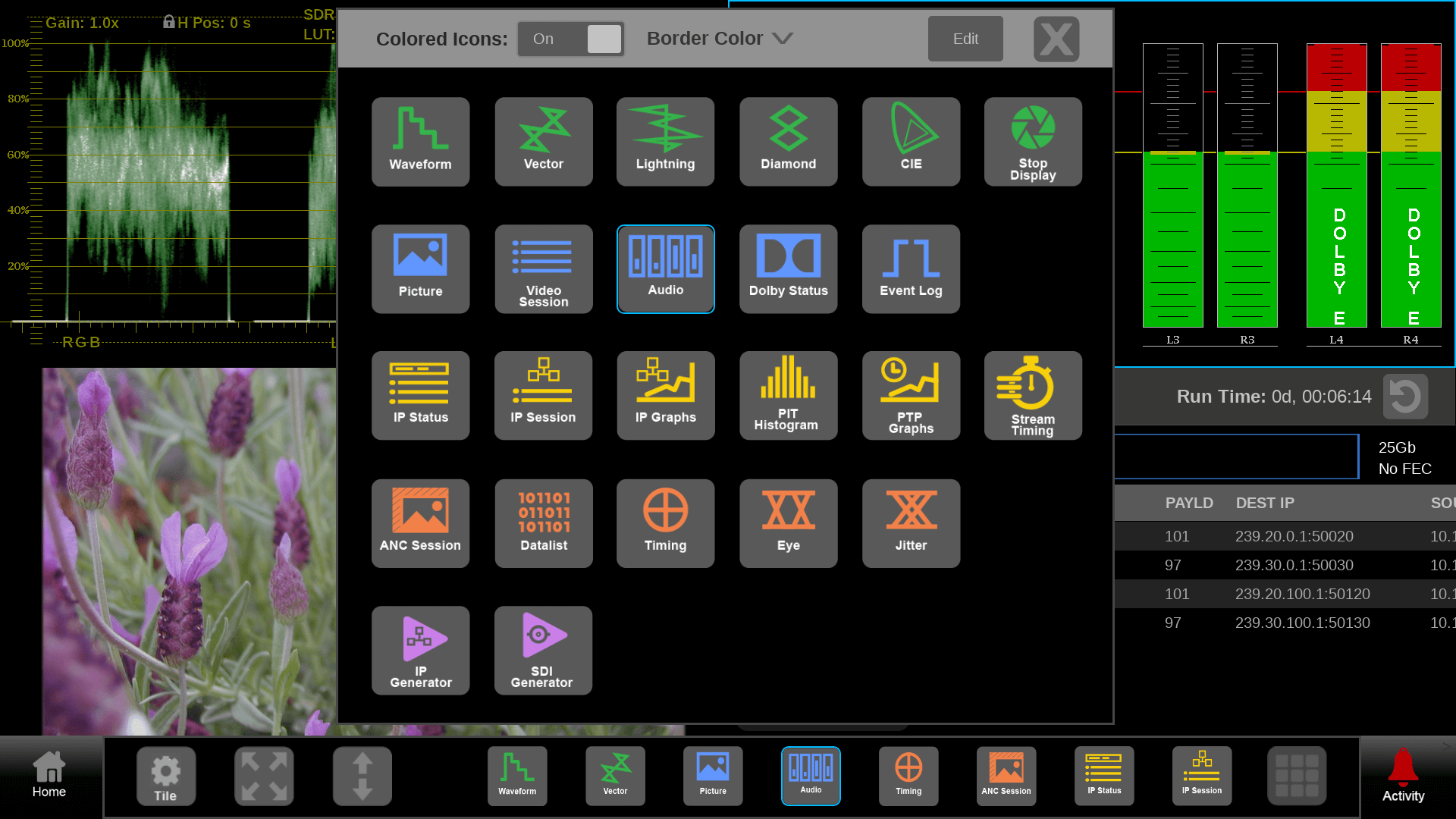 Flexible Display Configurations
Single Display
Flexible tile configurations provide full screen, two, three and four tile layouts giving flexibility in selecting a variety of software apps for your specific application while still allow easy viewing of each display. Each layout can be customized for each user and assigned as a preset.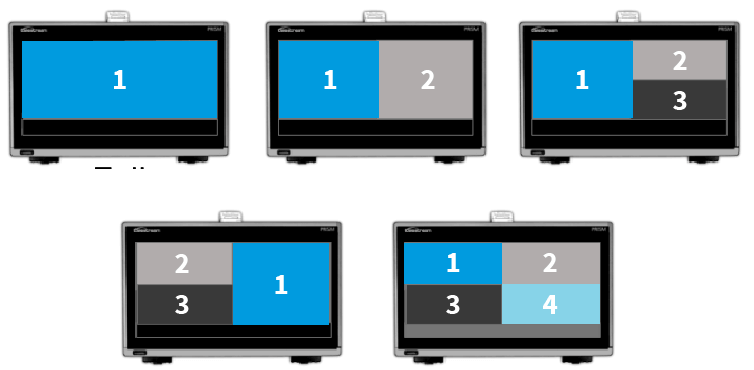 Dual Display
With Dual screen displays each display can be configured the same way you can configure a single screen instrument providing an abundance of ways to personalize the user experience. Your layout can go from two full tiles to a total of eight quarter tile display applications and anything in between.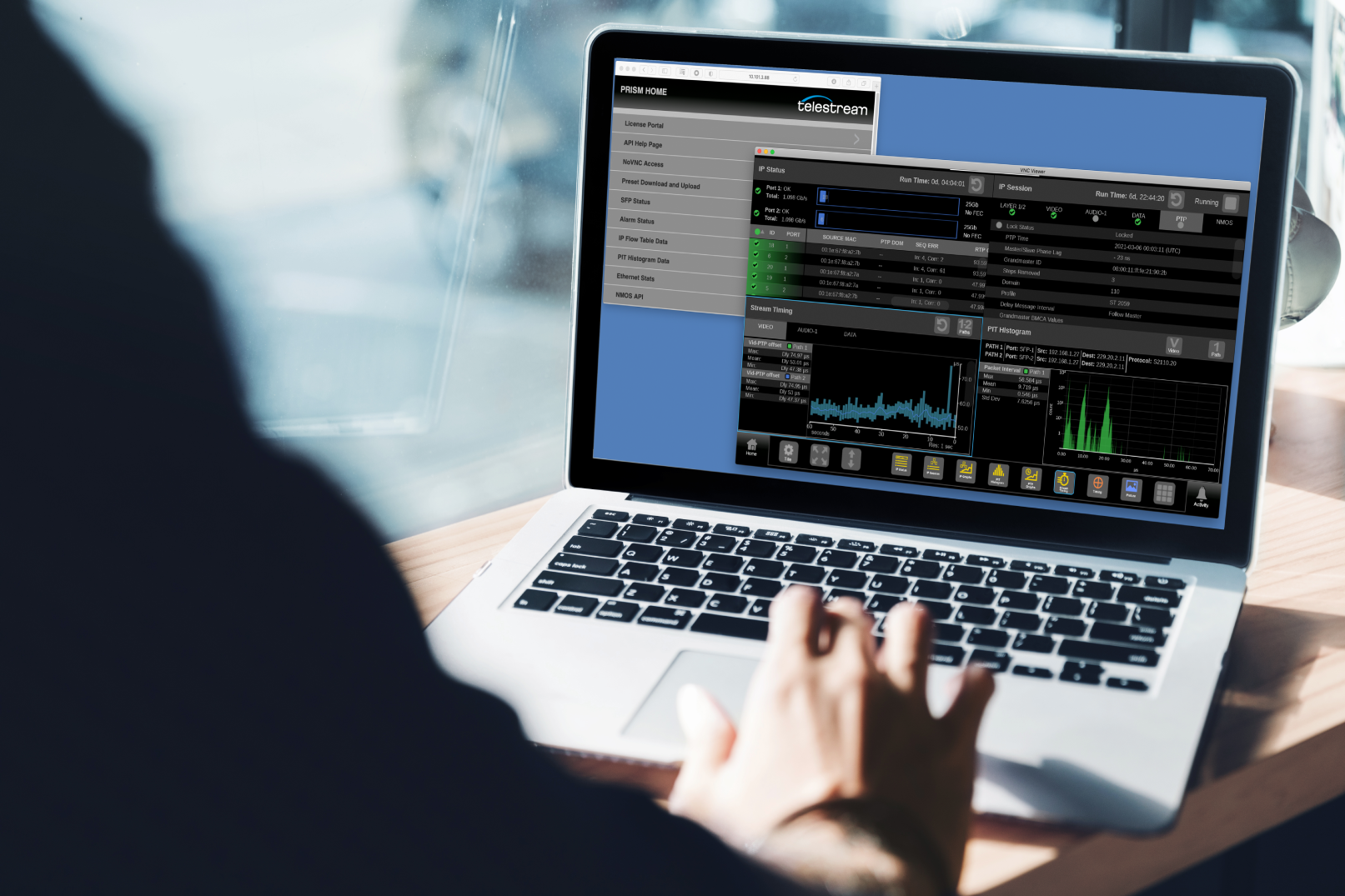 Remote Connectivity
Engineering and production staff increasingly need to work remotely, and PRISM can be controlled via noVNC using the same UI that can be accessed from the front panel. Providing the user with fully featured access to the monitoring and measurement applications available within PRISM.
Remotely configure and export presets, download the event log and use Syslog for remote analysis of events and alarms.
High Dynamic Range Exposure Measurement
Managing exposure is key to the creation of great content. PRISM provides a mix of traditional and new tools such as False Color Displays, STOP waveform, Lightmeter and internal LUTs for managing S-Log 2, S-Log 3, Log-C, HLG and PQ gamma curves to enable objective level and luminance area measurements to ensure consistency.
Wide Color Gamut and Color Management
The combination of high resolution, wide color gamut and high dynamic range can bring the image to life.
PRISM provides all the tools needed to balance your camera, check color consistency and master in multiple color spaces. The Vector and CIE chart displays provides adjustment of color for Rec. 709 and 2020 color spaces. The Telestream Diamond display simplifies adjustment of the R/G/B components.
The CIE charts ensure compliance for Rec. 709, 2020 and DCI P3 with False Color Gamut overlays in the picture display make it easy to identify colors that are outside the DCI-P3 or Rec.709 color space.
Audio Monitoring
PRISM provides a set of audio monitoring tools for embedded audio and ST2110-30 or -31. Including configurable audio bars, Loudness measurement, Surround Sound, Lissajous phase, and Audio Session displays, for monitoring multi-channel 5.1 and 7.1 mixes with Dolby Digital and E decoding. Display up to 32 Channels of Audio for 8K productions.
Listen to the selected audio channels or downmixed stereo channels via headphones or through optional integrated speakers on the MPX2.

MPX2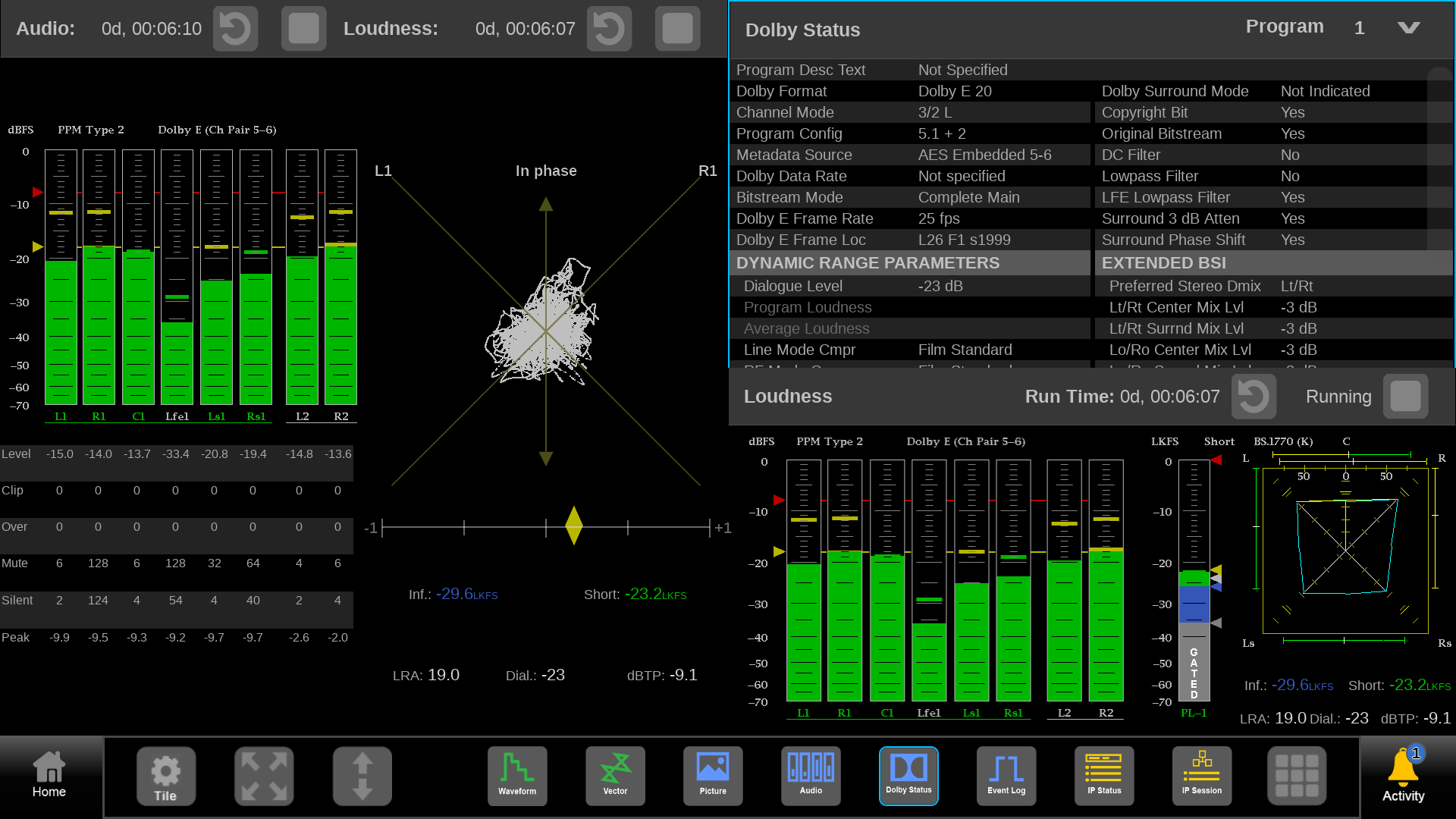 IP Facility Design, Commissioning and Maintenance
The transition to IP needs a comprehensive tool set to provide visibility of your Audio, Video and Data streams throughout the network.
PRISM provides 10GE support for ST2022-6, ST2022-7 and ST2110 as standard with simple software upgrade to 25GE connectivity. Straightforward monitoring of IP streams with measurement applications to help characterize network performance and troubleshoot issues.
SDI Engineering and Maintenance
Ensuring continued operation of equipment within the facility or network is critical to maintaining a high quality. The Telestream PRISM provides and extensive set of tools to aid in troubleshooting problems and diagnosing issues. For SDI a 12G Eye display can be used to check on the health of transmission of the signal.
With the Datalist and ANC Session allowing investigation of metadata issues to ensure SCTE104, Closed Captions and AFD are present within the signal and being decoded correctly.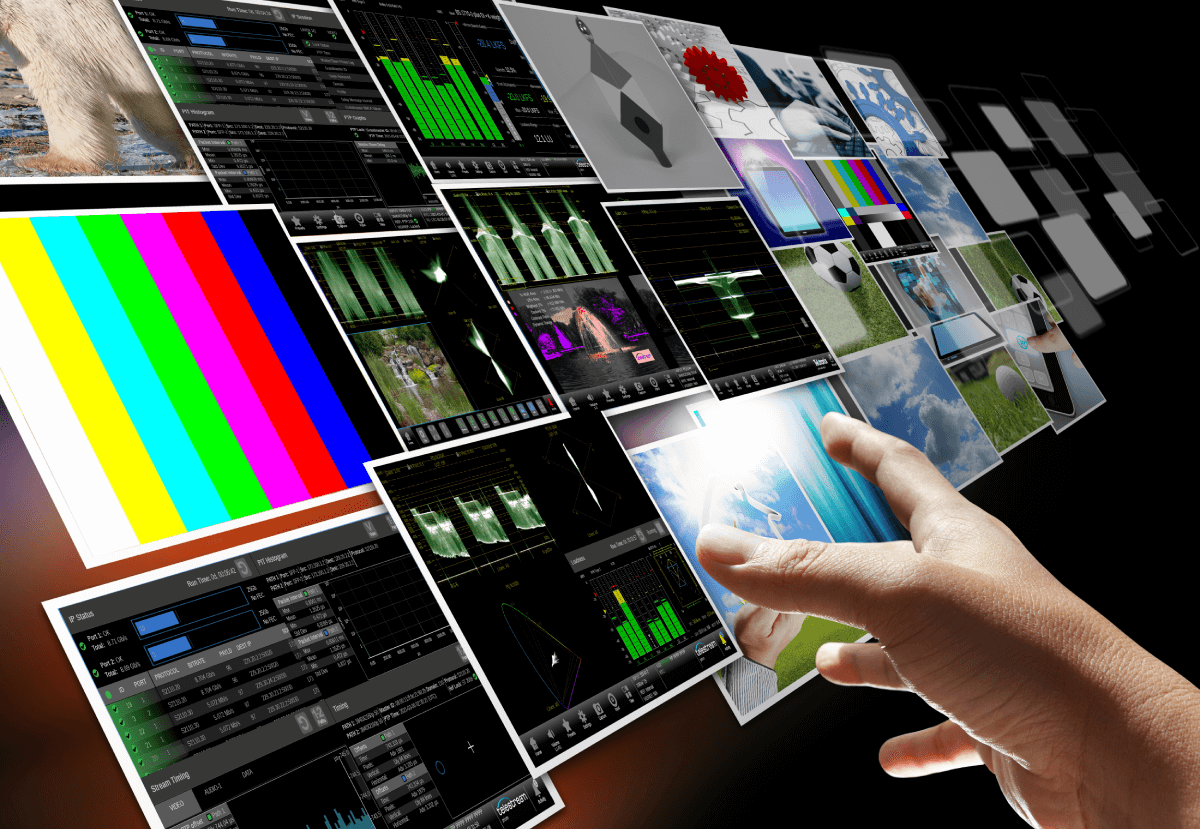 See the bigger picture…
See what is happening on the whole network 24/7 and respond to issues quickly and decisively. PRISM and the Telestream Inspect 2110 probe work in conjunction to provide large scale monitoring by exception, network visibility and deep content and stream diagnostics at the click of a button. The complete Engineering and Operations solution all from one company that can grow as your network grows.
Live Production
Live production is a high pressure environment for Video Shaders and the Engineer in Charge. They need the right tools to help them setup the OB Truck quickly and reliably. Once the event starts the Shaders need easy to use instruments and easy to understand displays to allow them to make camera adjustment decisions quickly and accurately regardless of whether it is an HDR or an SDR production.
Customizable UI's, managed presets and specialist tools for exposure and color makes PRISM the ideal tool for this environment. Manage exposure multiple ways using the waveform, false color picture display, Stop display and Lightmeters. Manage color using the vector display, diamond display, CIE chart, and false color picture display for gamut.
All the tools that the Shading team would expect and more.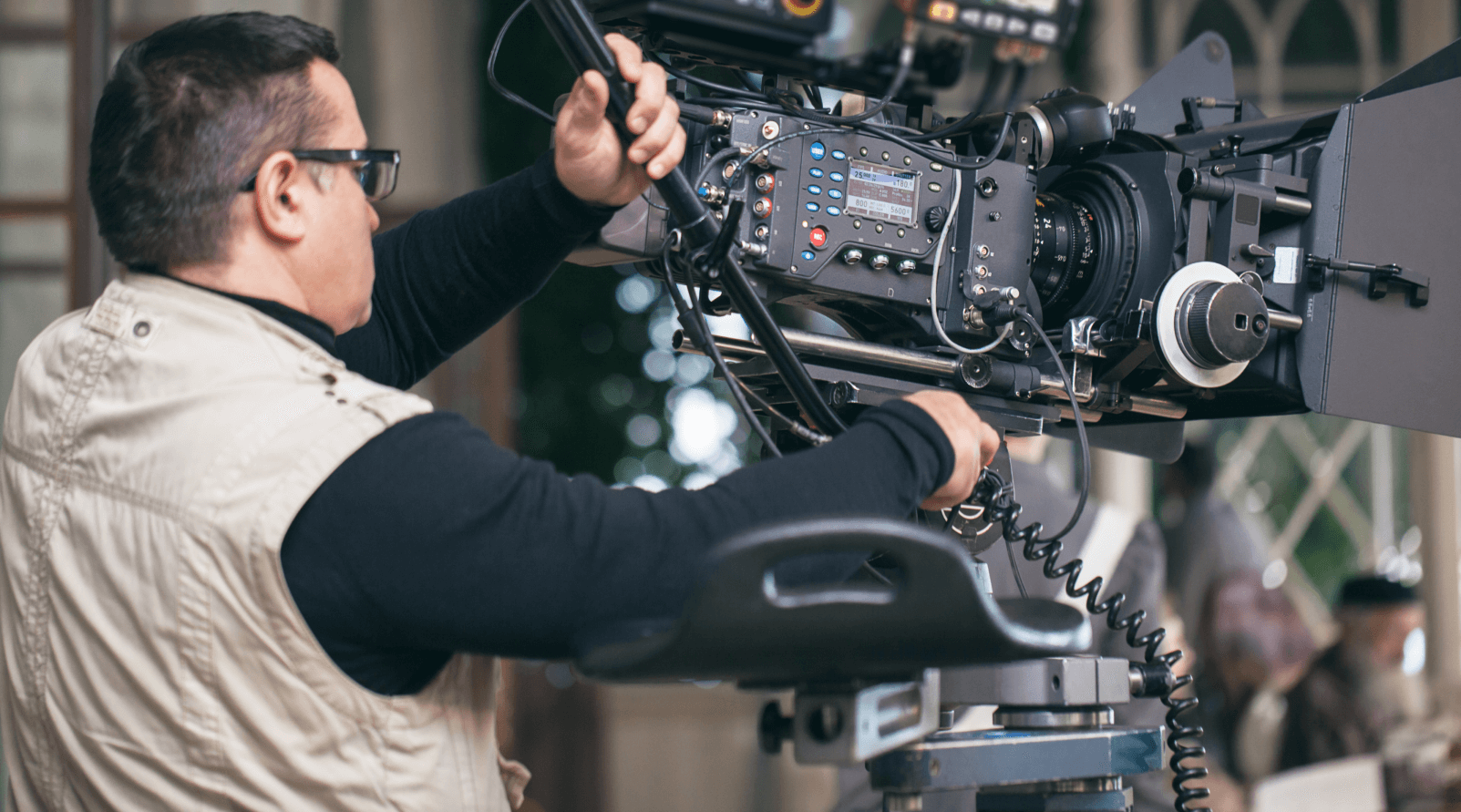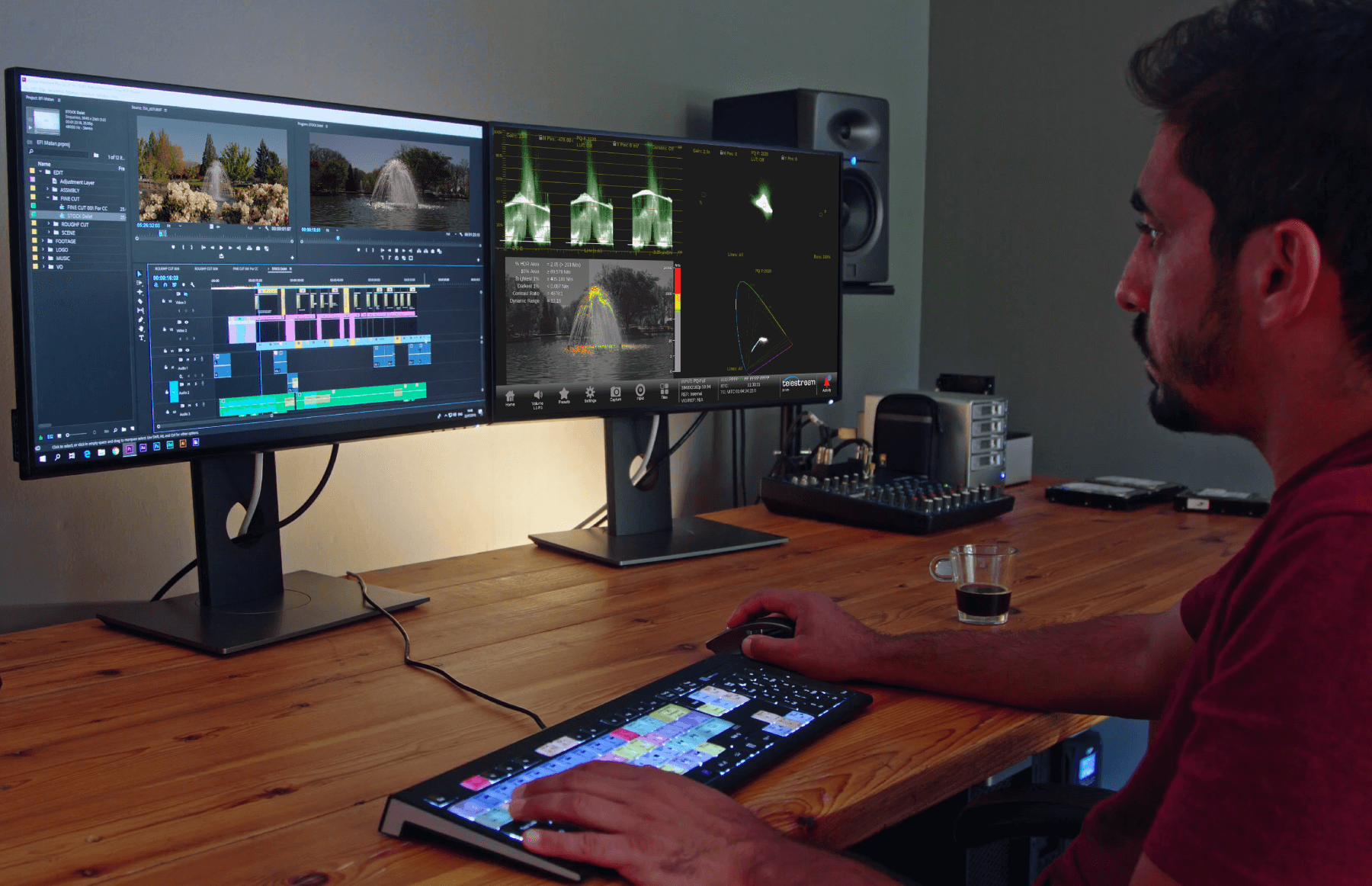 Post Production
Delivering high quality content to tight deadlines is critical to success in Post Production. Editors and colorists need trusted easy to use tools to adjust exposure levels, manage the look, match scenes and much, much, more. PRISM provides an array of new and traditional tools to manage exposure and color. These include Stop displays, CIE charts, customizable false color images for exposure and color gamut errors, waveforms and vector displays, all wrapped in a UI that can be personalized to work the way your team and workflows need it to work.
The PRISM preset system, event log, audio, video and data tool sets make Technical QC and mastering a structured and repeatable process. Get it done right, first time, every time.
Regulatory Compliance
Broadcasters are responsible for ensuring that their content meets regulatory compliance requirements. PRISM provides a complete toolset for Technical QC and compliance checking.
Closed Captions support for CEA-608/708 ARIB STD-B37 and World Standard Teletext (WST) with decode of subtitle pages using OP47/ST2031 Ancillary data SCTE104 data can be monitored in ANC Session and logged in Event Log.
Loudness monitoring that supports EBU R128:2014, ATSC A/85:2013 and BS.1770-2.
Gamut monitoring that supports EBU R103-3 (2020).