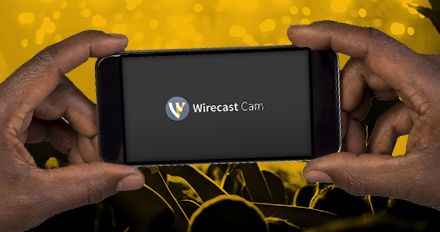 Wireless Camera App
Turn any iPhone (4S or newer) or iPad into a wireless camera and capture into Wirecast as a source using Wirecast Cam.
Internet/IP Streams (Pro)
Pull any live feed (RTSP/RTMP/HTTP/MMS) from your network or the internet directly into Wirecast as a source (you must have access credentials). Add Teradek streams from their wireless devices for cordless production.
New! Audio/Video Sync
Sync any audio and video sources using our advanced video and audio delay features! Great for productions with multiple types of sources.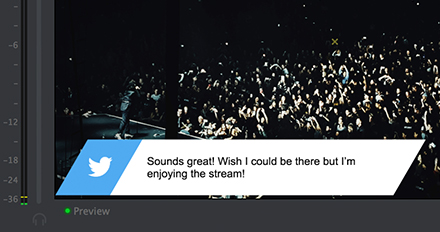 Twitter
Pull live Twitter feeds directly into you broadcasts for direct interaction with your audience.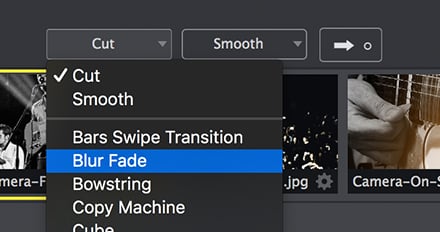 Switching
Switch any sources you've captured in real time for your audience and produce your show. Add professional transitions and smooth fades between sources. Assign any audio input source to any and all video sources or vice versa.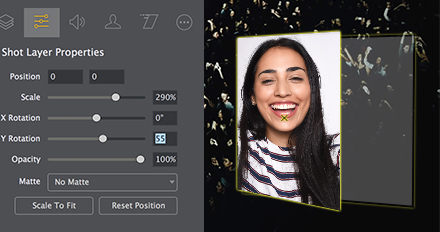 Editing
Dynamic editing of any and all sources. Resize, position, crop, flip rotate, add color correction filters and more. Use Wirecast's powerful graphic editing features to compose picture-in-picture shots or layer up to 250 different sources on screen at the same time!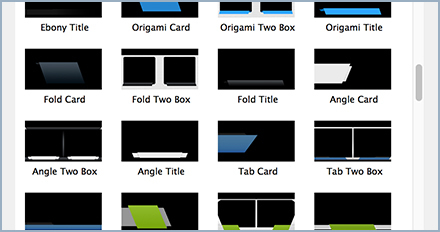 Titles
Easily add titles and lower thirds, scrolling, crawling or live text to your broadcast. Choose from our template library of pre-made titles.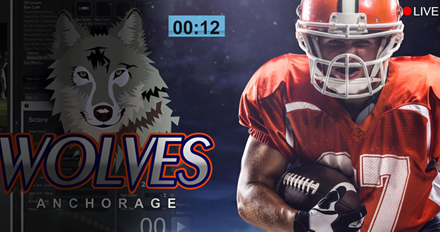 NewBlueFX Titler Live
Bring in professional animated 3D live titles, scoreboards, clocks, logos and more using NewBlueFX's Titler Live software. Titler Live Express, included with every purchase of Wirecast 7 (a $99 value), is a drag-n-drop editor with over 60 animated titles, lower thirds and motion bugs. Optional upgrades add additional features and capabilities.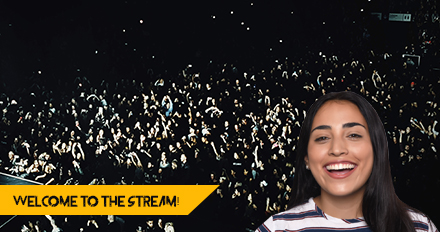 Live Chroma Key
Transport your production to a new studio or location using Wirecast's high quality GPU accelerated real-time green screen solution. Replace your (green) background with your own video or still image background live and in the moment.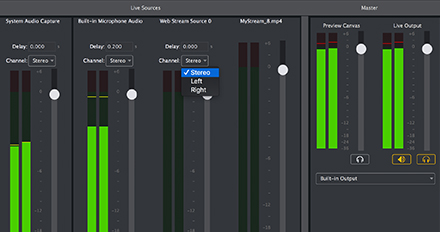 New! Audio Mixing
Our built-in audio mixer allows for better control over any audio source. Mix-minus, panning, solo, mute and audio playout device selection are some of the powerful new audio features we've added.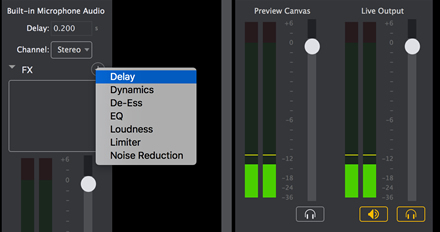 New! Audio Effects (Pro)
Now add VST-based audio effects such as Noise Reduction, EQ, or Dynamics filters directly from the Wirecast Audio Mixer.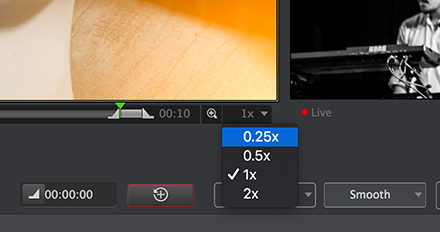 Instant Replay (Pro)
Sports fans who need instant replay to catch game highlights or play action, can use the built-in replay system to easily grab and edit clips and replay them at any speed.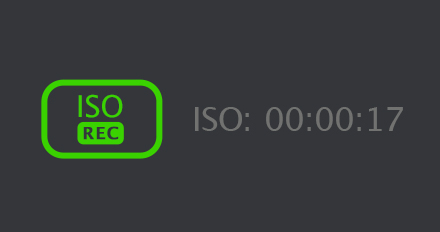 New! ISO Recording (Pro)
Want to capture individual high-quality, edit-ready files for each camera you're capturing? Our ISO Record feature will allow you to specify which sources you want to record separately.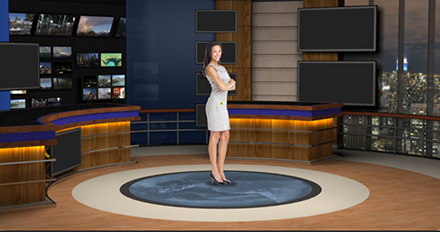 Virtual Sets (Pro)
Add your own background or virtual studio behind your talent and place them in beautiful, realistic environments. Choose from three built-in virtual 3D sets or buy the expansion pack of over 6 additional sets and 90 additional camera angles, available from Virtualsetworks ($329).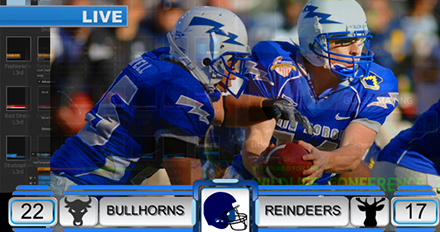 Scoreboards
Use our built in scoreboard generator (Pro), or create your own using NewBlue's Titler Live Advance ($445) or Titler Live Ultimate ($945) — available for Wirecast Studio or Pro. Bring in real-time data directly from your stadium scoreboard using Sportzcast's technology, for hands-free scoring!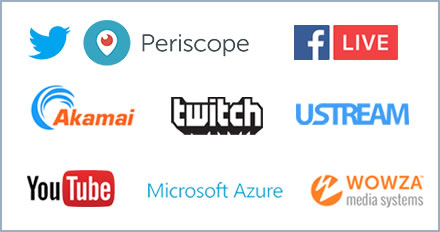 Stream to Anywhere
Choose from over 30 integrated destinations, or add your own custom RTMP destinations. Stream your content to Facebook Live, YouTube Live, Twitch, Microsoft Azure, DaCast, Churchstreaming.tv, Wowza, New! Hitbox and many more! Streaming to them is as easy as entering your username and password in Wirecast and getting automatically connected with your account.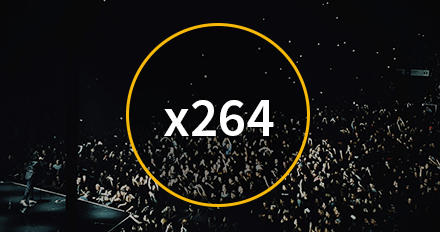 High Quality Streaming & Recording
Stream and record high quality video and audio using the latest codecs and compression algorithms. Use x264 to live encode your stream. x264 offers high quality encoding with lower bitrates, making it one of the best low-latency video streaming formats in the world.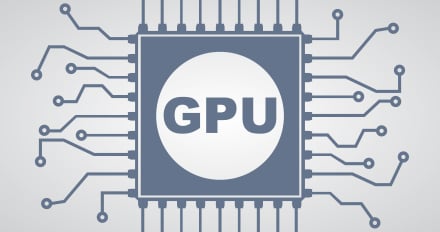 New! GPU-Accelerated Encoding
Stream better quality while using fewer resources. Take advantage of powerful, cost-efficient hardware encoding capabilities for better performance and lower CPU utilization. (Requires Intel QuickSync, or nVidia NVENC hardware) .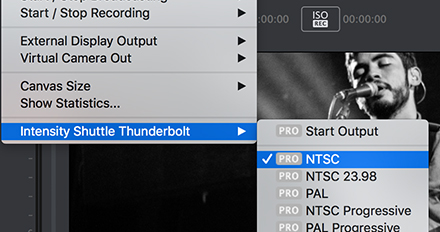 Local Program Output Feed
Take your Wirecast feed out directly to Blackmagic Design and AJA hardware. Ideal for sending live feeds directly into editing, effects and broadcast design systems.