Ensuring your PTP Timing is stable
PTP timing and synchronization are critical for IP media networks. When there is a problem, it requires rapid response and expert focus. While vital to the operational integrity of the system, the messages and protocol required to setup and manage PTP are almost invisible to those working with, and processing content. Inspect 2110 will monitor your PTP traffic 24/7/365 and instantly provides notifications whenever a significant event occurs on your PTP system. Inspect 2110 collects PTP performance metrics and reports changes to the synchronization system such as Grandmaster ID or changes in message rates. Inspect 2110 provides straightforward automated detection of PTP issues saving time and reducing synchronization errors.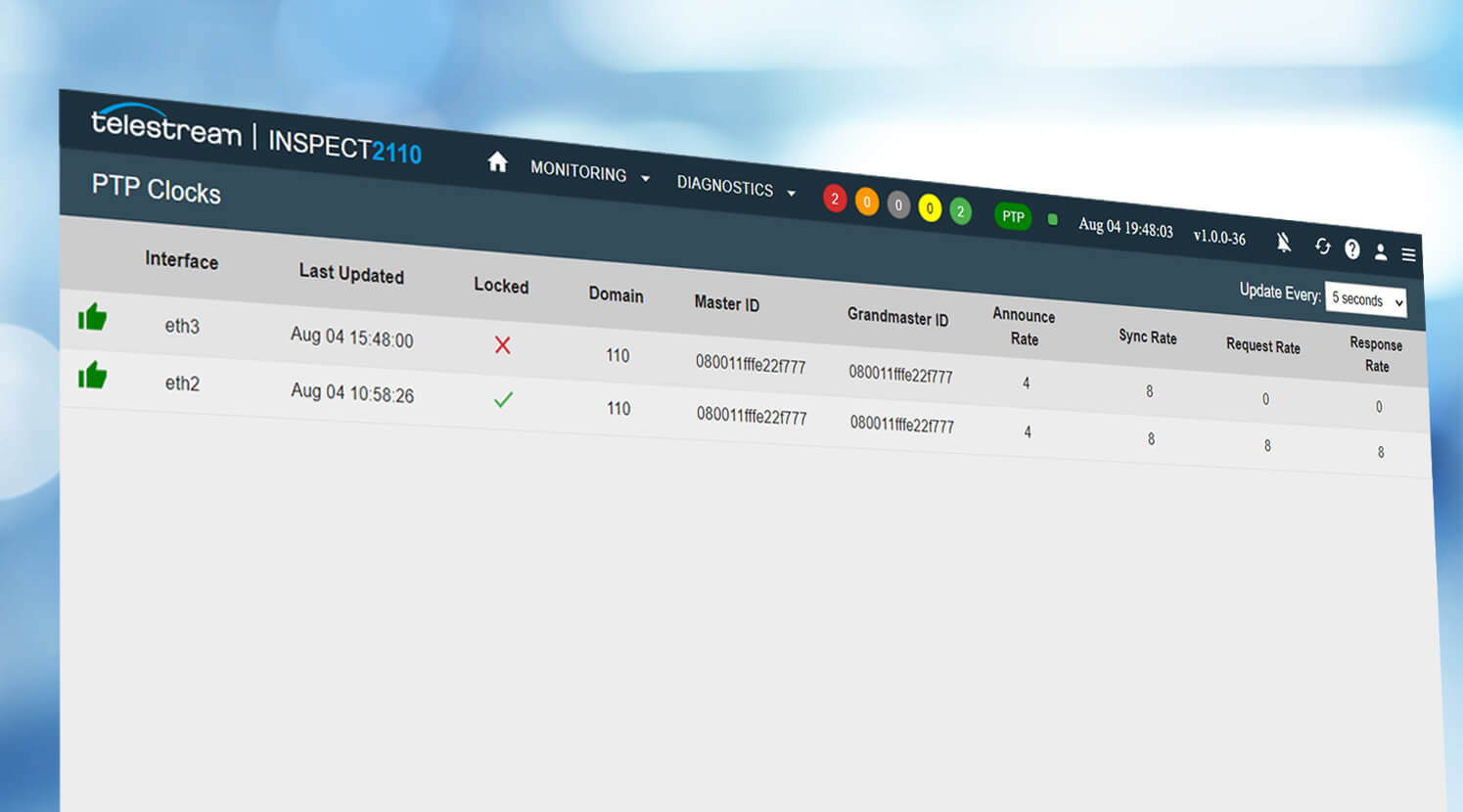 Monitoring by Exception
In today's facilities, engineering, creative, and operations staff are under constant time and cost pressure. They are required to get their jobs done quickly and efficiently with as little disruption as possible. Inspect 2110 monitors by exception, working quietly in the background and interrupting key personnel only when there is a problem. If all is well, they can continue to perform their day-to-day duties, secure in the knowledge that Inspect 2110 is monitoring their content and network. Inspect 2110 highlights problem streams via thumbnails with status icons as well as mouse-over alert messages and provides a direct link to deep diagnostics if required. Let Inspect 2110 take the on the monitoring load, It's simple, clean, and efficient.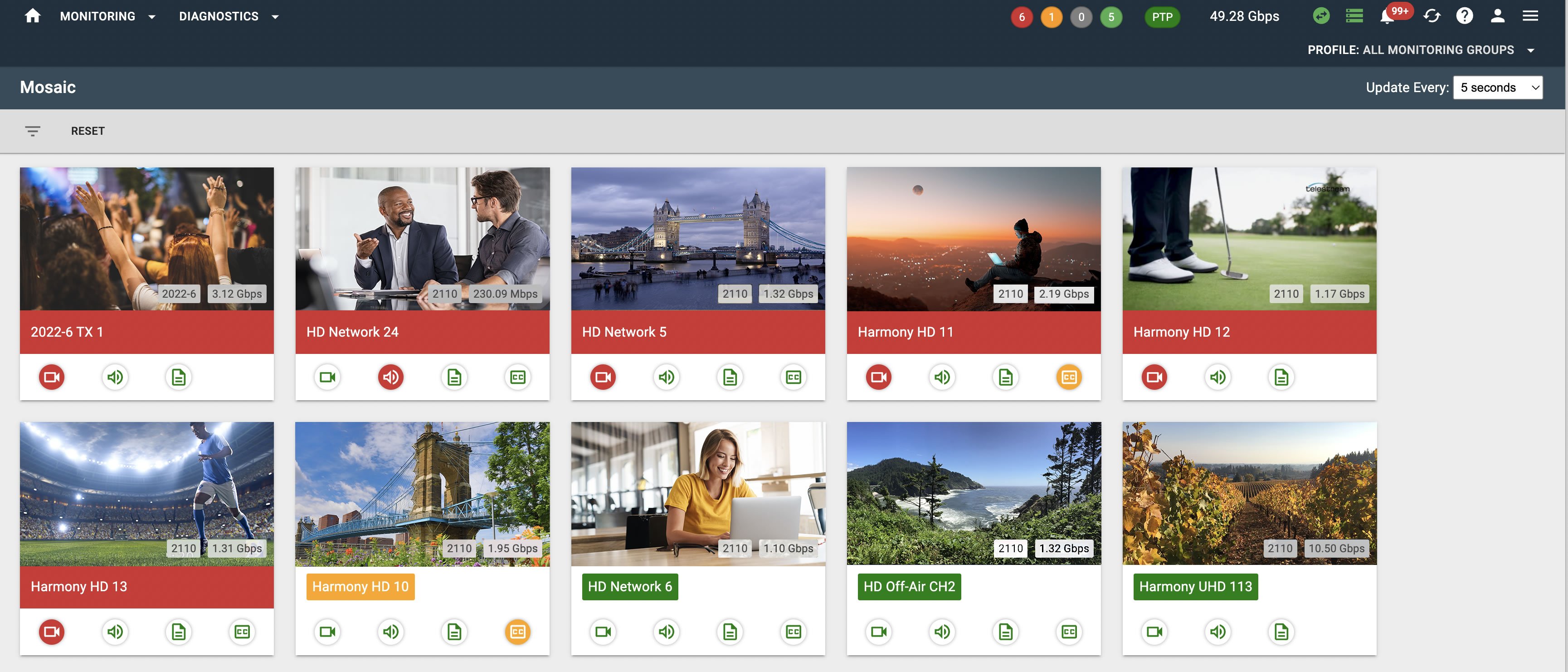 Validating content not just gathering statistics
With the variety and combinations of video, audio, and data streams it is important to ensure that what is on your network is what's supposed to be there. Inspect 2110 will verify that your SDP files are correct and will look at your content by checking formats, resolutions, bitrates, and frame rates. This ensures that these streams are correct, contain valid content, and are error-free when compared to the SDP file. Inspect 2110 also reports on a wide range of standard IP network statistics that other systems depend on to report issues by inference. Inspect 2110 finds real problems in real content.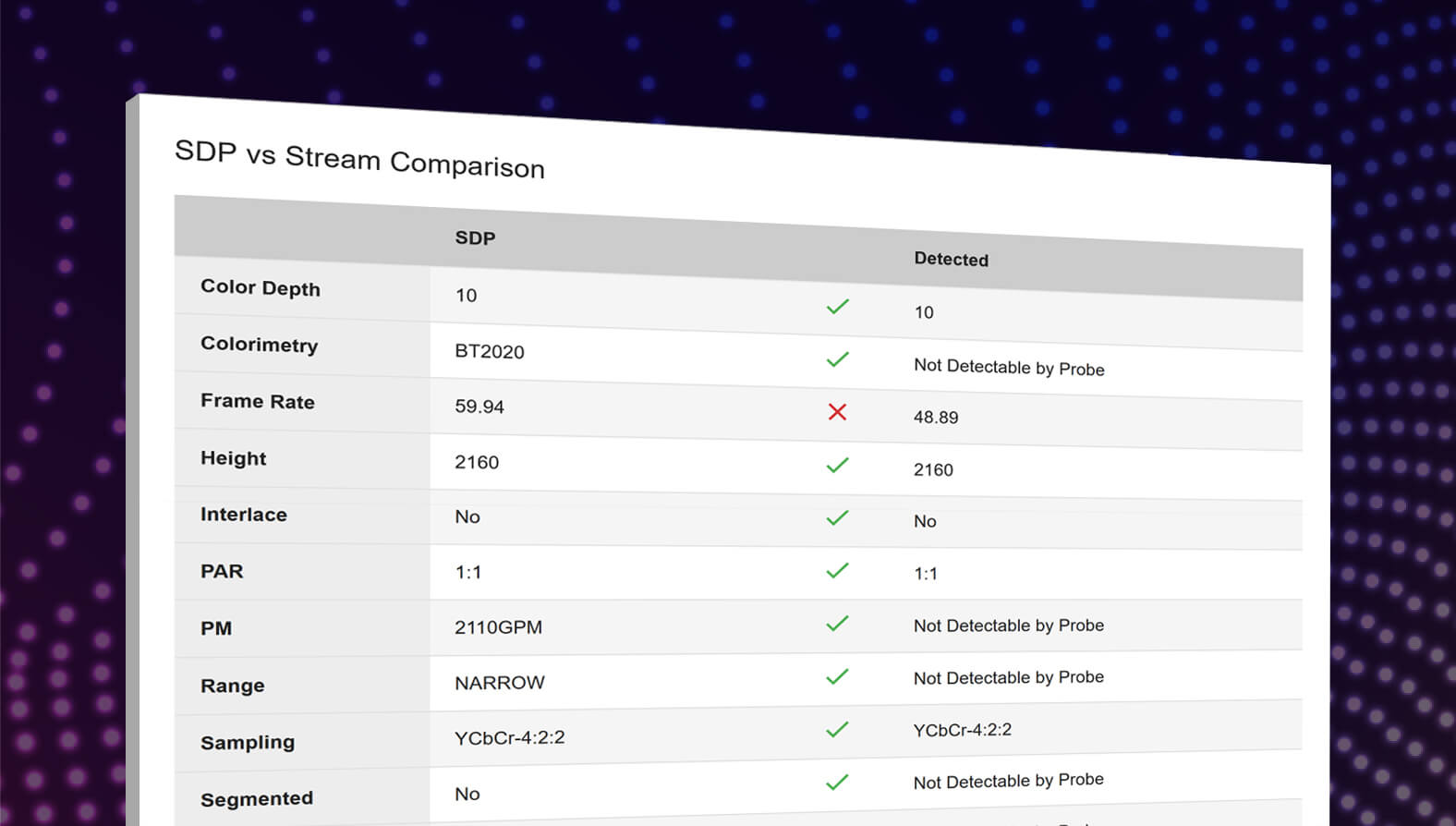 Redundancy validation
ST 2022-7 and redundancy provide peace of mind to those responsible for the reliable delivery of content. It is vital to know that, should you need to use packets from your backup network, there will be no problems. Inspect 2110 monitors both your primary and secondary streams to ensure that they are present, they are the same, and that neither is degrading to a point where a switch would cause a catastrophic system failure. Operators can easily view redundant stream thumbnails and comparisons and obtain alerts in the case of mismatch issues.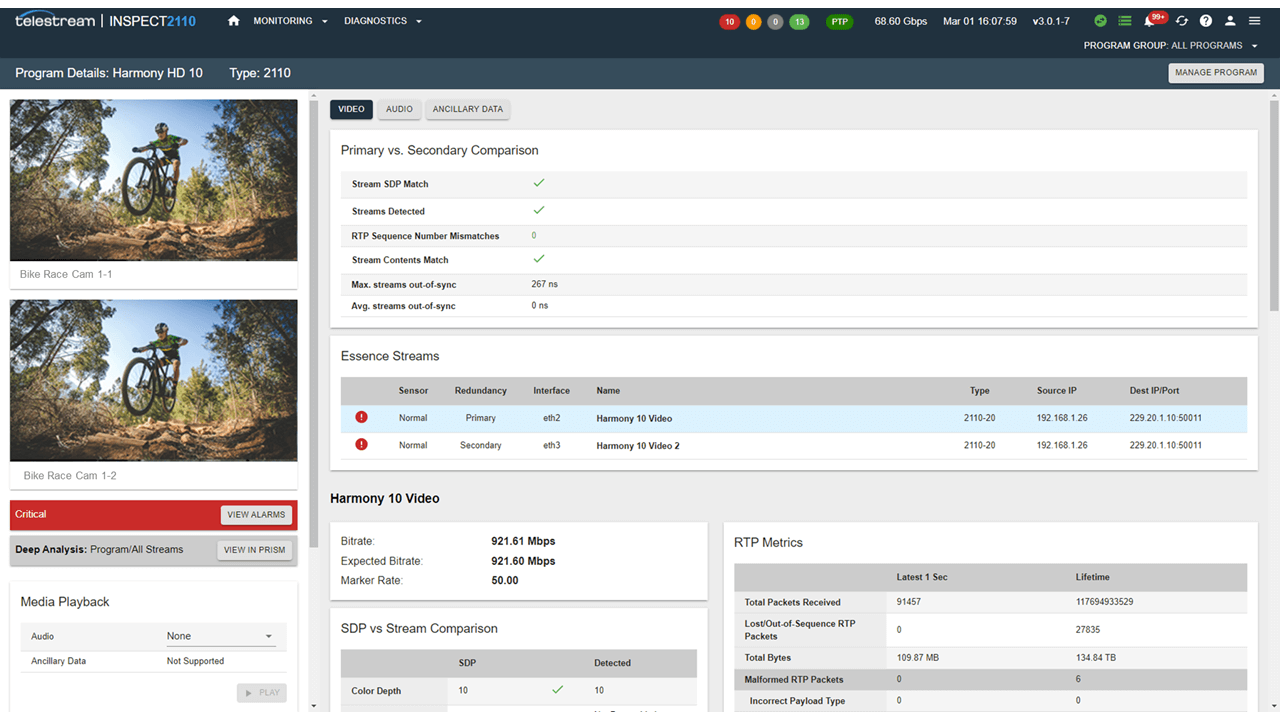 Inspect 2110 can be easily scaled up to monitor large media networks and is designed to simultaneously look at a wide range of signals and variables. When alarms or errors occur, Engineers need access to in-depth analysis tools to allow them to remedy issues quickly. With one click of the "View in PRISM" button on the Inspect 2110 UI, Engineers can automatically select, launch, and configure any Telestream PRISM on the network to perform deep analysis on problem ST 2110/2022-6 streams. An unmatched combination of large-scale monitoring and in-depth analysis from a single company.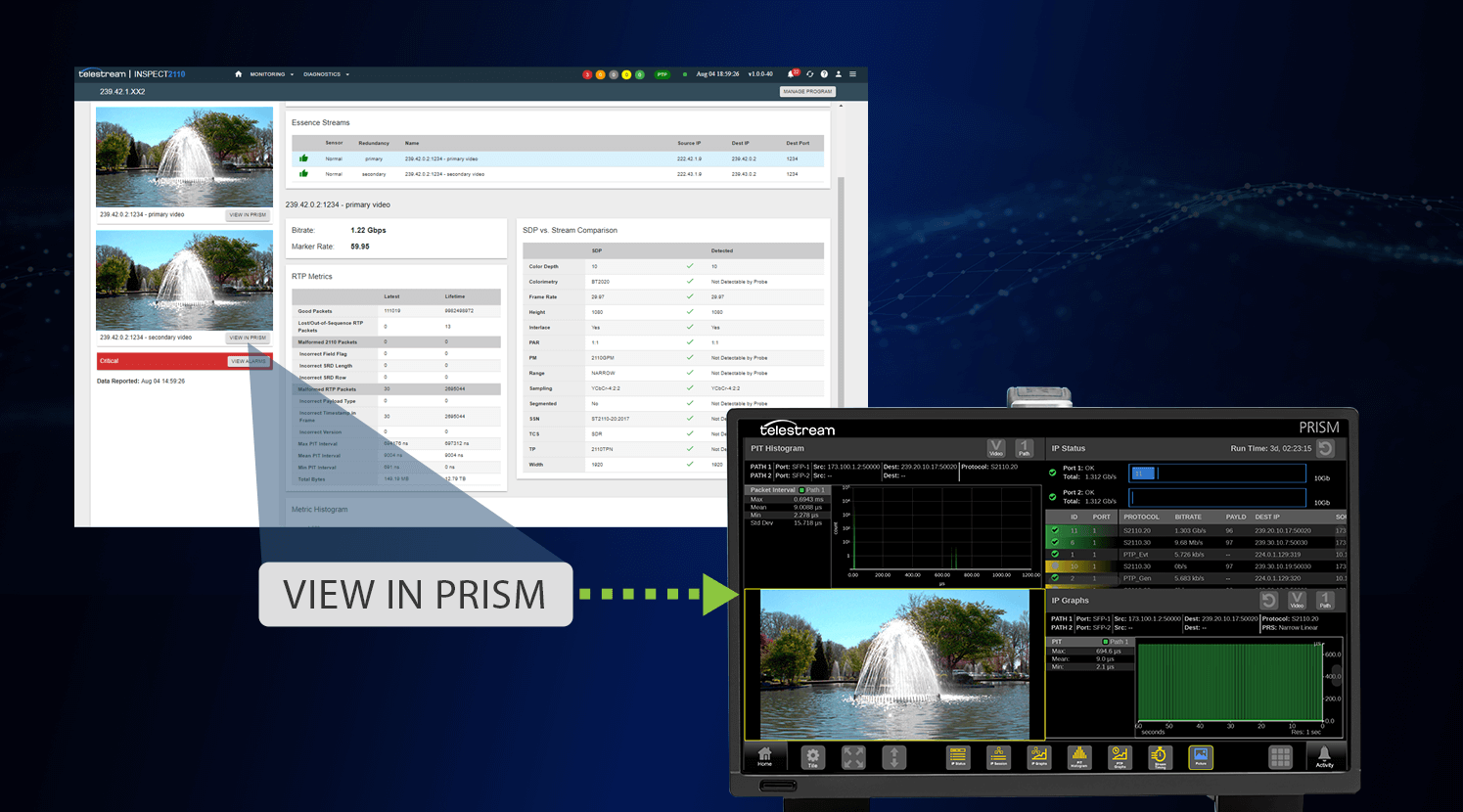 High Performance, Flexibility, and Easy Integration
Using simple software upgrades Inspect 2110 can be configured to monitor bandwidths up to 200G. Additional software options can be applied to tailor the instrument to specific applications whether that is monitoring contribution links, checking what is leaving the OB truck, or ensuring that studio cameras and mics are operating correctly. Systems Engineers will appreciate the easy integration with the rest of their IP media infrastructure through NMOS compatibility and an "API-first" design ideal for automation and other third-party software integration.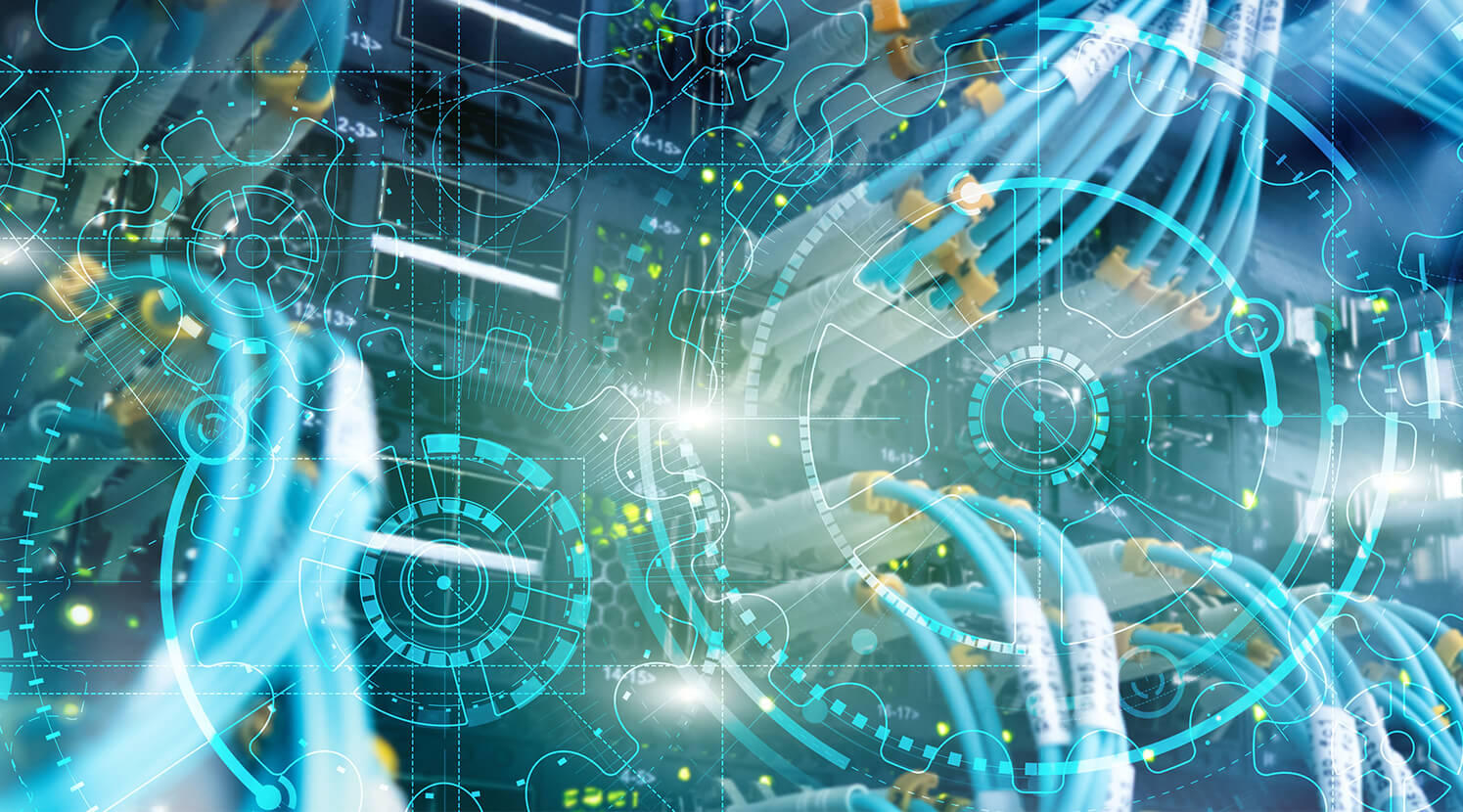 Ready to Learn More?
Inspect 2110 is the latest addition to the Telestream IP Media monitoring family of products. Together with the PRISM family of hybrid IP/SDI waveform monitors. Telestream has the ideal solution for ensuring the quality of your IP Media streams for broadcast operation and network distribution. To learn more, or to get a demo, click here: Monitoring ST 2110 Networks Visibility, Test, and PTP Timing Solutions.