Designed to be used in video Engineering, Operations, Live Acquisition and Post Production – PRISM SDI/IP Waveform Monitor includes market leading analysis tools, is widely deployed, and is software-based to evolve with your network.
PRISM features include:
Supports SDI and IP standard to simplify purchase decisions and use in hybrid environments
SD, HD, 3G, 4K and 8K SDI capable with support for 4:2:2 and 4:4:4 formats
Enhanced IP Monitor for ST2110-20/30/40; ST2022-6/7
Software upgradeable connectivity for SDI up to 12G and for IP up to 25G
Analyze PTP & Redundant Paths
Advanced HDR/WCG false color gamut error and CIE charts
Provides comprehensive Audio support in Dolby and PCM formats.
Comes in a range of form factors to optimize integration into rack-rooms, production-consoles or post-suite environments
Simple to use and easy to configure with application specific customizable user interface and button layouts
Easily Integrate & Manage Using NMOS with Full API
Affordable and capable base unit that can be tailored for every position in your workflow. Pay only for what you need in each position, simplify training and consolidate tools
The only waveform monitor solution you need.
Audio Management and Analysis
Setting up and checking audio can be a complex problem in Broadcast environments, and it just got harder with the transition to ST 2110 and the need to monitor multiple audio streams for any single program. PRISM provides a set of tools and configurations to help you get this done.
Configurable audio bar displays with loudness measurements, Lissajous phase display, and audio session display
Display 32-channel PCM audio bar in 8K formats
Dolby E decoding, Dolby E status display and Dolby E guard band measurements
Surround display supporting 5.1, 7.1, 5.1.4 and 7.1.4 audio
Connectivity to ST 2110 -30, -31 as standard
Audio headphone connectors come standard or select the integrated speaker option for use instead of a separate audio monitoring unit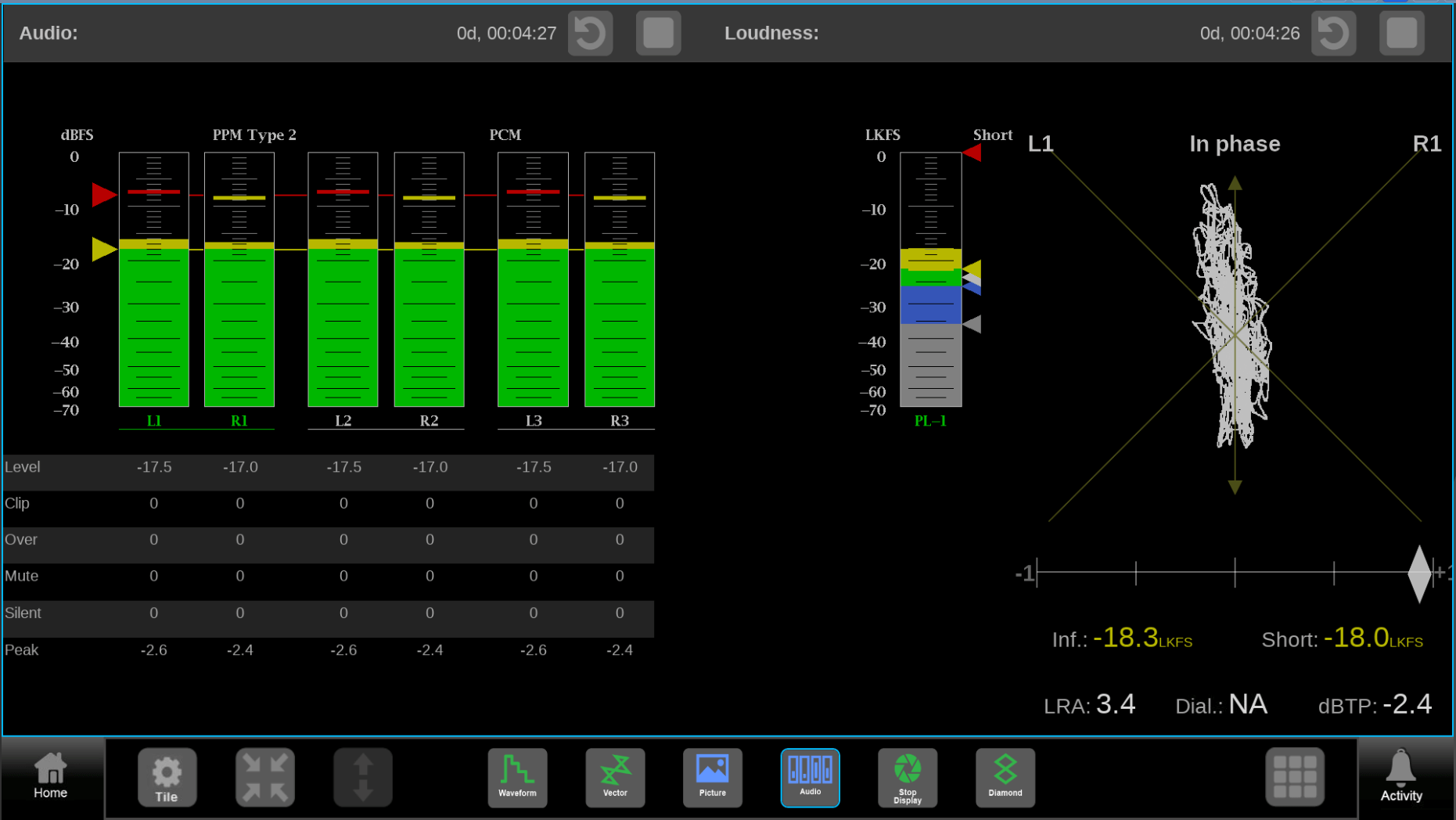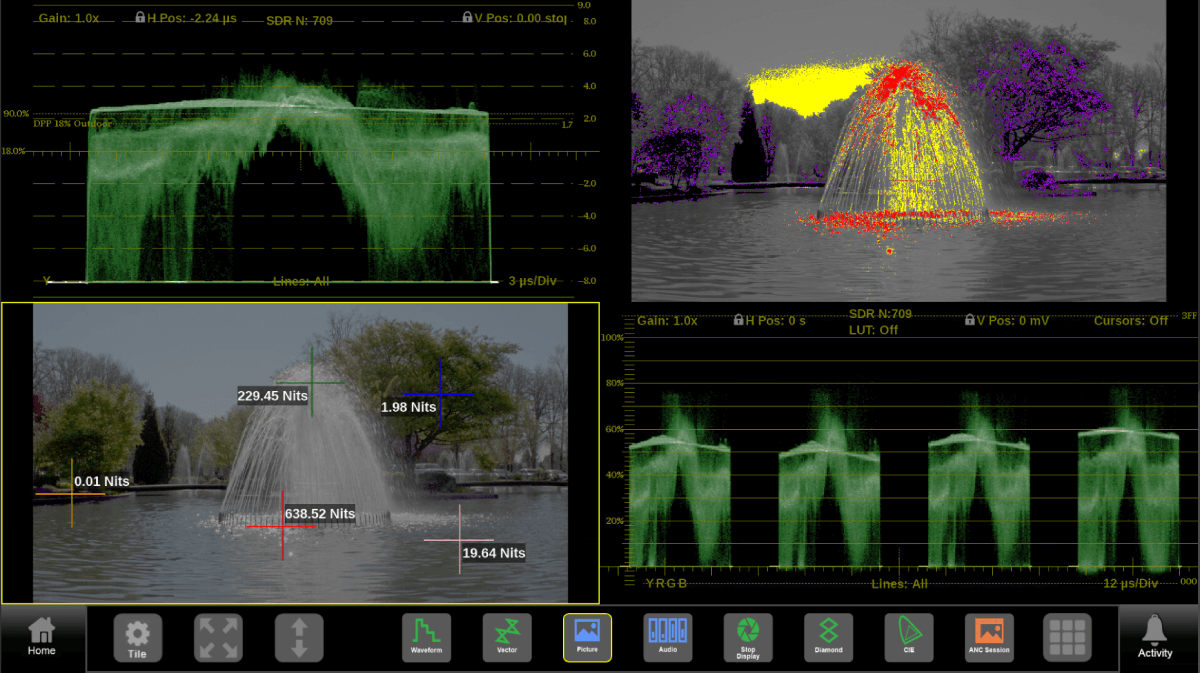 HDR and Exposure Management in Live and Post Production
Exposure management is one of the key elements in the creation of great content and the complexity of this task has grown with the introduction of HDR technologies. Not only do Shaders and Editors need to know what the luminance levels are in different parts of the scene, but they now need to know which parts of the image are being driven into the HDR zone and what percentage of the screen is covered by the highlights and darks. PRISM provides traditional and new tools to enable objective measurements to help you get this done consistently and quickly.
Standard YCbCr, RGB Parade and Overlay Waveforms
Patented STOP Display giving measurement in light levels, STOP's or Nits. Simplifies iris adjustment on cameras
User configurable False Color Displays to enable quick and easy exposure adjustments in both live and post production
Use internal LUT's to correctly display Slog-2, Slog-3, Log-C, HLG, PQ content
Light meter display with five independent measurement points to assist with scene set up and exposure measurement
Format support for SD, HD, 3G, 4K and 8K SDI
WCG for Color Management in Live and Post Production
It is the combination of color and exposure levels that set the tone and bring images to life. Whether you are working in one color space or multiple color spaces PRISM provides all the tools needed to balance your cameras, check color consistency in your content, master in multiple color spaces and ensure that everything is compliant for delivery.
Vector displays for Rec. 709, Rec. 2020 and DCI-P3
Diamond displays to show if R/G/B is out of the legal range
CIE Charts for Rec. 709, Rec. 2020 and DCI-P3
False Color Gamut Error images to show where colors are outside the DCI-P3/BT.709 color space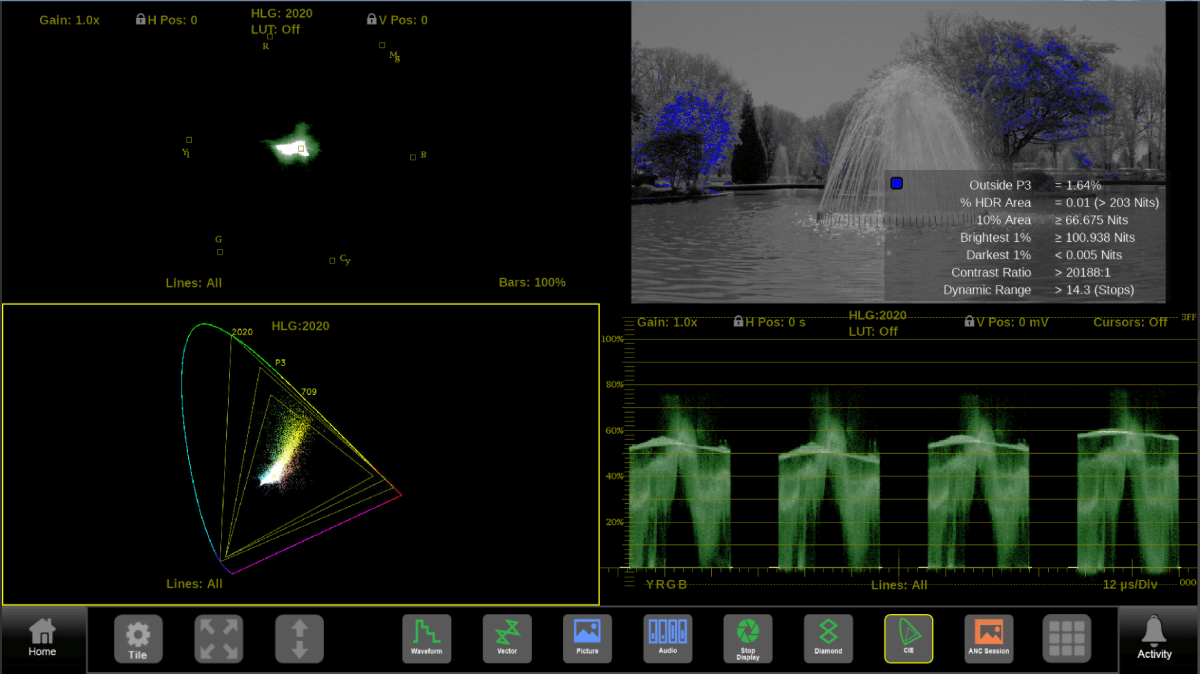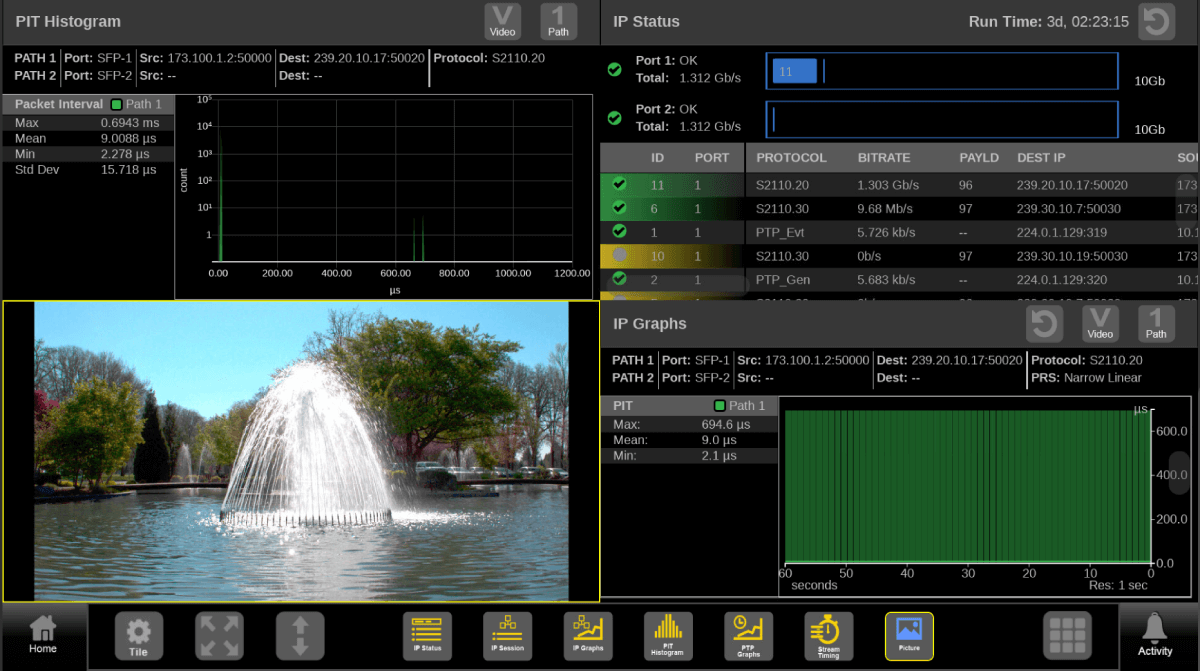 IP facility design, commissioning and maintenance
As the broadcast industry transitions to ST2110, Engineering teams need a comprehensive toolset to give visibility to what is happening to their Audio, Video and Data IP streams. They need to confirm the facility synchronization is functioning and stable, and that the redundant systems are correct and available. PRISM waveform monitor provides a comprehensive ST2110 measurement toolset to help engineers quickly identify, isolate and remedy faults.
10GE connectivity for ST 2110 -20/-30/40 as standard
Simple software upgrade to 25GE when required
ST 2022-7 connectivity and displays for redundant path analysis
Direct connectivity to ST 2059 PTP and analysis to ensure that the system synchronization has been setup correctly and is working
Test signal generation for both SDI (SD/HD/3G/12G) and SMPTE ST2110 -20 and -30
Easy Integration and customized user layouts
PRISM is designed to be used in Engineering, Operations, Live Acquisition and Post Production. Each of these functions need to be able to configure PRISM to be an efficient tool in the chosen environment. The use of software modules and innovative UI configuration makes it easy to tailor PRISM to meet the needs of individual users
PRISM comes in three different form factors for easy integration into different environments
PRISM can act an ST 2110 to SDI bridge to drive reference monitors and other SDI equipment
Customize the task bar and button layout to suit your application or user environment
Quickly configure up to 36 different presets to provide increased flexibility and quick navigation of PRISM
Versatile virtual input configurations to seamlessly work in a hybrid SDI and IP environment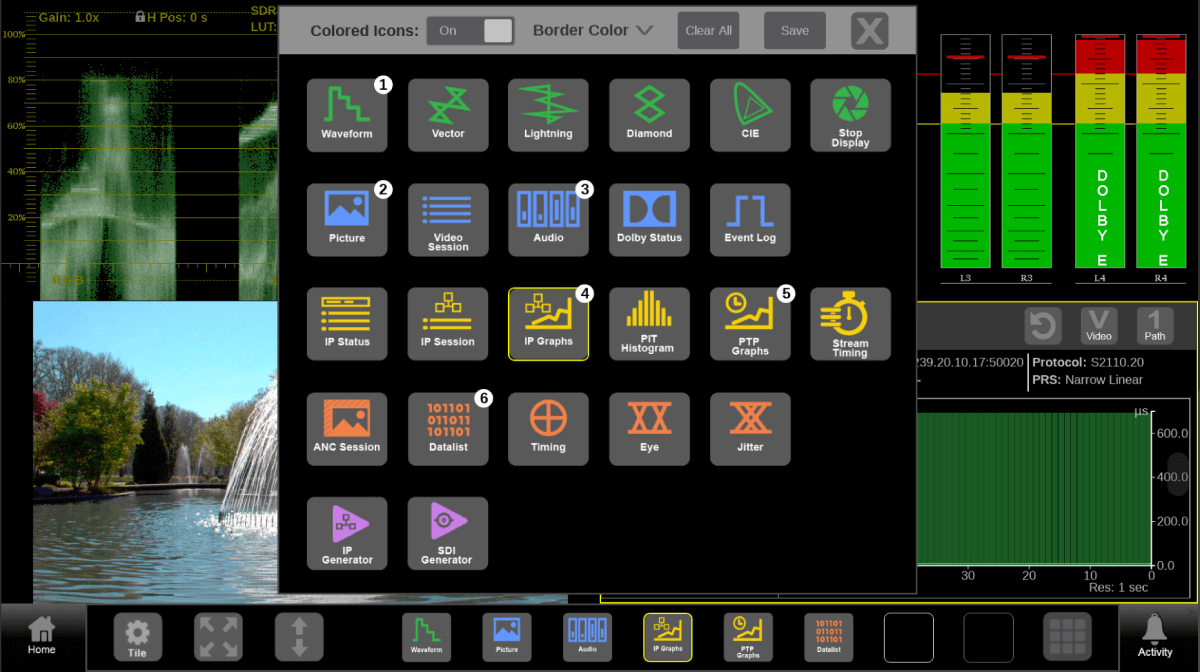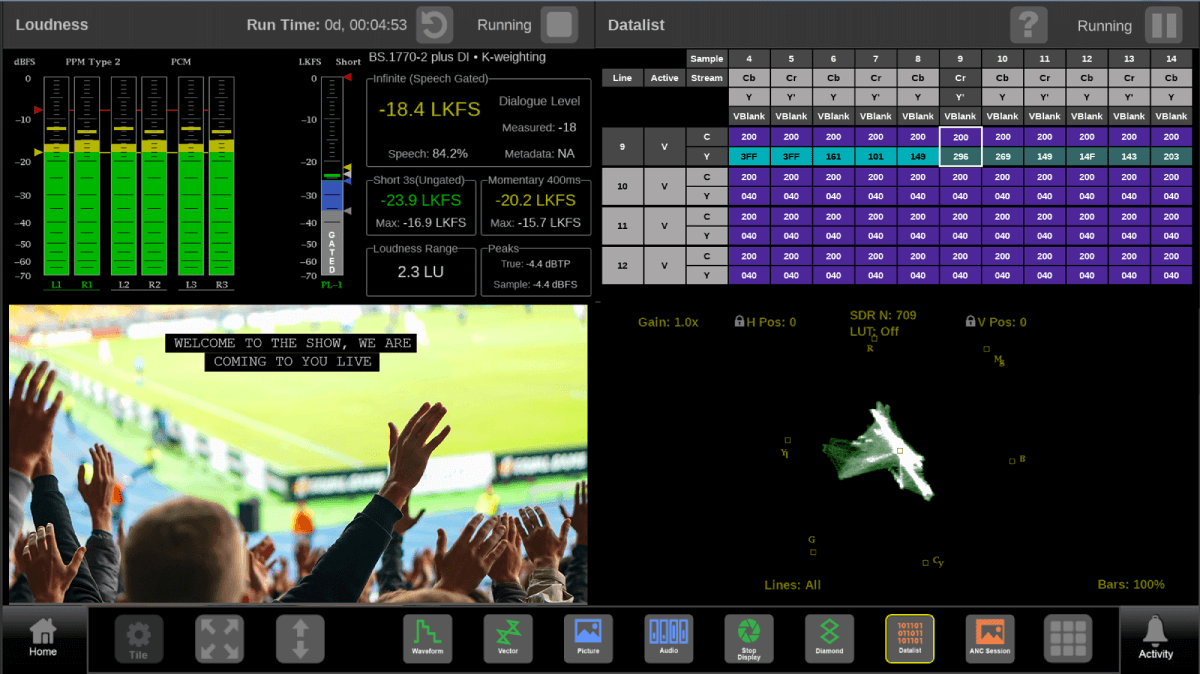 Ensuring Regulatory Compliance
Broadcasters are responsible for ensuring that their content meets regulatory compliance requirements. Failing to do so will result in financial penalties that could have been avoided. PRISM provides a complete toolset for Technical QC and compliance checking.
Detect the presence and display of Closed Captions for CAE608, CAE708 and World Standard Teletext (WST)
Decode Teletext subtitle pages using OP47/ST2031 Ancillary data
Ensure that content meets the requirements of the CALM act and other Loudness Measurement standards with support for EBU R128:2014, ATSC A/85:2013 and BS.1170-2 with/without Dialog Intelligence
Proprietary False color images show which parts of the image fall outside the BT.709 or DCI-P3 color space
Diamond displays show if R/G/B is out of the BT.709 legal range
Remote connectivity and use
Engineering and production staff increasingly need to work remotely. PRISM can be configured and controlled remotely through NoVNC connectivity and is widely used by our customers in remote work environments.
PRISM supports NoVNC connectivity for configuration and control as if you were sitting of front of the unit
Web UI provides full featured access to a variety of information and status tables
Remotely configure and export presets to other PRISMs so that teams are all working in a consistent way
Remote capture and download captured files for further analysis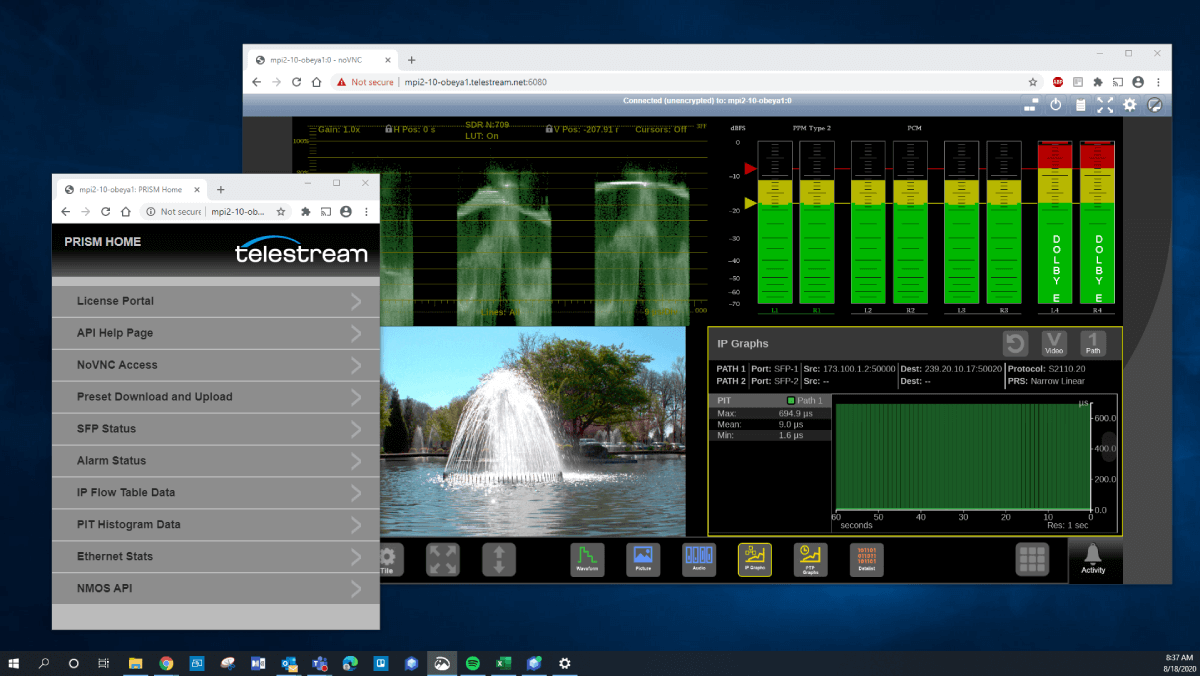 Models
MPI2-25
MPX2-25
Form Factor:
3RU integrated Display
1 RU external display
SDI Formats:
SD, HD, 3G, 4K, 8K
IP Formats:
SMPTE ST 2110-20/30/40, SMPTE ST 2022-6/7, SMPTE 2059 (PTP), 25GE connection
Color Space:
Rec 709, Rec 2020
Video Functions:
Picture, Waveform, Vector, Diamond, CIE, False Color, etc.
Audio Functions:
Bars, Lissajous, Surround, Dolby Decode, etc.
Engineering Functions:
Timing, Eye, Datalist, PIT Histogram, IP Stream Capture, etc.