|
|
|
|
Workflow Portal
|
|
Deploy Operator User Interfaces in Minutes
with Vantage Workflow Portal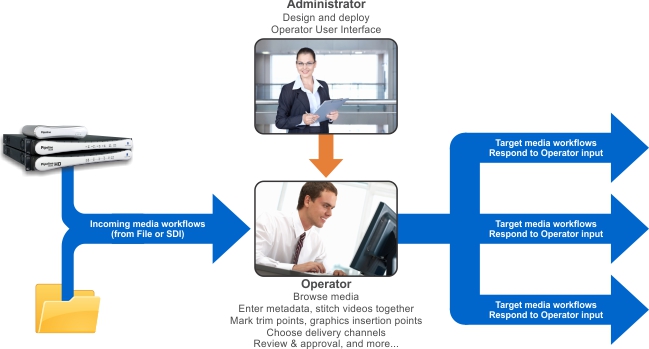 Vantage Workflow Portal
Telestream Vantage® Workflow Portal allows media workflow administrators to quickly design and deploy user interfaces for operator metadata entry, content browsing, stitching, and job submission. Administrators design the task that the operator will perform, and design the back-end process that will fulfill the operator input. Operators can then use the Vantage Workflow Portal  client  application  to  access  their  tasks  and  submit  jobs.
Simplify your Operator Environment
Vantage Workflow Portal eliminates the need for complicated edit systems, XML file editors, or web engineering to enable simple operator tasks.
Within a Vantage Workflow Portal deployment, administrators can:
Choose which videos in the workflow the operator can see
Design the operator task
Automate the process that fulfills the operator's input
Powerful, Data-Driven Process Design
At the heart of Vantage Workflow Portal is the Vantage workflow designer, which allows administrators to design and automate the media workflow that responds to operator input.
Vantage workflows can include decision-making rules which automatically respond to incoming metadata. A visual job history also shows the administrator  which  choices  were  made  in  each  job.
Vantage also allows metadata fields to be fed directly into processing steps. The administrator designs the operator metadata label, and then designs how the fields in that label map into the Vantage workflow.
Example Applications
Highlight extraction from archive files
Promo Preparation
Review and Approval
VOD Distribution
Customizable Operator Experience
Administrators can design their own metadata schemes, including how parameters are categorized and displayed to the operator.
Through this data entry, operators can:
Mark timecode points on the video timeline
Select checkboxes
Enter text, numbers or choose from drop-downs
Browse for files

Download the Vantage Workflow Portal product sheet