World-Class Workflow Orchestration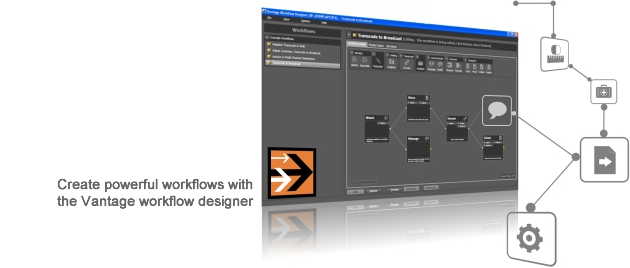 Vantage® workflow products enable the design and automation of video workflows and can integrate with virtually any network device in your facility.
Visual Workflow Design
With visual workflow design and job status views, Vantage provides a powerful yet simple way to build and automate video workflows. Metadata flow, analysis data flow, media file flow, and process flows can be designed independently of one another and of the underlying media file.
Full Automation in Multi-Vendor Environments
Vantage automates content ingest, file format conversion, video device interoperability, multi-channel distribution, and other video production workflows. With support for all major broadcast servers, edit systems, streaming servers, cable VOD servers, SANs, subtitling, QC, digital delivery, and audio correction systems, Vantage unifies your video operations into a managed, faster-than-real-time workflow ecosystem.
Automated Decision-Making
Using unique workflow design capabilities, Vantage allows you create adaptive workflows that automatically analyze and make decisions and manage your content based upon incoming metadata and content properties. Further, Vantage allows the creation of self-healing workflows that can detect – and recover from – errors in video files. By integrating Vantage analysis, transcoding, file movement and workflow design, you can build automated intelligence into your video workflows.
Support for Manual Steps
The Vantage Workflow Portal puts the manual steps in your video workflow under process control. Operators can review assets, enter metadata, and forward jobs as part of the entire workflow environment.
Vantage Workflow Products include:
Vantage Analysis – media analysis, decision making & quality control workflows
Vantage Workflow Portal – creation of operator user interfaces for browsing video, entering metadata, and moving media through workflows
Partner Integrations – Vantage integrates with QC, digital delivery, broadcast server, audio correction, subtitling, and edit systems to enable fully unified workflow orchestration.