Telestream Vantage Transcode IPTV VOD allows you to achieve the highest possible quality at the lowest bit rates. With GPU accelerated transcoding, integration of x264 H.264 and x265 HEVC encoding technology, and Manzanita Transport Stream multiplexing, Transcode IPTV VOD offers a complete solution to automate transcoding for IPTV and Cable VOD production.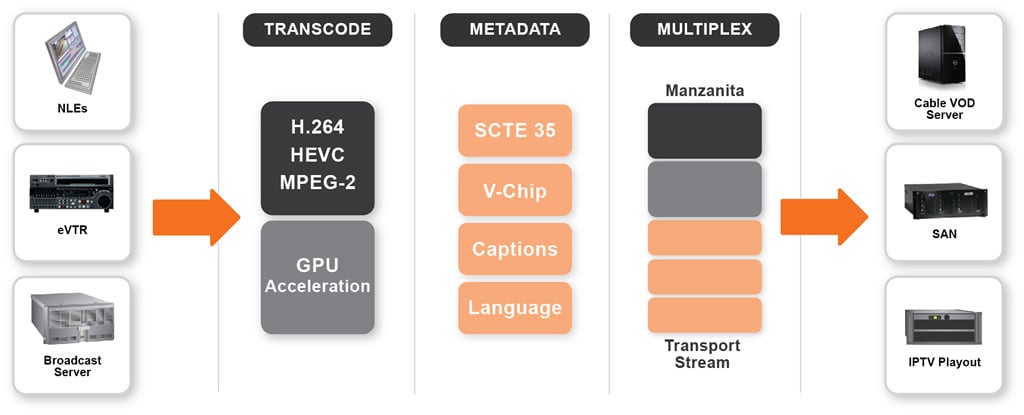 Increase quality, Lower Transmission Costs with x264
x264 is widely regarded as the industry leading H.264 encoding technology. Independent studies have shown x264 capable of reducing bit rate requirements by 50%, without sacrificing quality, when compared with other H.264 encoders. Transcode IPTV VOD offers GPU acceleration of x264 encoding for high quality with exceptional transcoding speed.
Extensive Transport Stream Control
Transcode IPTV VOD provides sophisticated metadata control, customizable stream mapping, and fully integrated Manzanita Transport Stream multiplexing. Audio tracks and metadata may be preserved from source and remapped or encoded according to your specifications. Captions, V-Chip ratings, and other metadata can be preserved and inserted during the transcode. With these features and more, Transcode IPTV VOD allows you to meet the needs of the most demanding distribution requirements.
HEVC encoding
Transcode IPTV VOD includes x265 HEVC encoding, for high-quality H.265 encoding. HEVC allows you to reduce bit rates and increase video quality compared to H.264, allowing you to maximize the use of your bandwidth. For more information on HEVC, please see our HEVC White Paper and watch our HEVC webinar.
Save time, effort and money
Transcode IPTV VOD eliminates tedious manual transcoding, cumbersome handling of tape, and the need for digital-to-analog conversions just to get your media into the right file format – saving you time, effort and money. Transcode IPTV VOD automates the full production of your VOD assets, from ingest to transcoding, packaging, delivery and notification.
Cloud Port
Transcode IPTV VOD works with Vantage Cloud workflows that extend to Telestream Cloud and along with your favorite Cloud storage providers.
Consistent, hands-free processing
Transcode IPTV VOD is your professional media processing system. Set up automated workflows once for consistent, high-quality results every time. Simply set rules for where to look for your source files, what to do with them and where to deliver them. Transcode IPTV VOD automatically monitors FTP, network or local folders for the arrival of new content, enhances media with pre-processing filters for high-quality output, transcodes and delivers your media – and then sends email notifications.
Options to enhance your workflow
Vantage also offers options and an upgrade path to enhance your workflow. Add Lightspeed Live Capture to ingest media from tape or live sources. Add Vantage Analysis to create "smart" transcoding workflows, which analyze media properties and then automatically choose and customize transcoding profiles to best suit the media.
Automate VOD production further with Post Producer, which replaces manual editing with automated stitching, graphics, effects, audio overlays, and ratings to create beautiful, finished VOD assets. Post Producer™ integrates tightly with IPTV VOD to create a complete VOD production solution. Add integration with third party software tools to access QC, digital delivery, and subtitling functions within a unified Vantage workflow.
Add Lightspeed Server to improve Vantage performance and throughput. Leveraging Telestream's exclusive Lightspeed technology, Lightspeed Server is a 1RU device that uses multiple GPUs and CPU cores to accelerate video processing and H.264 encoding. Enhanced deinterlacing, resizing, and accelerated H.264 encoding will significantly improve your image quality and reduce transcoding time.
New Support for GPU accelerated Nvidia NVENC h264 and HEVC,* (HEVC up to 10x faster than x265, H264 up to 3.5x Faster than X264 at similar quality levels)
*Requires Telestream G7, G8 or G10 Lightspeed Server
Enhanced Video Processing
Support for Dolby Vision HDR processing and Dolby Atmos Audio**. Support for Insync FrameFormer Hi quality standards conversion.
** Requires additional license option
Scalable, rock-solid server software
Vantage Transcode IPTV VOD runs on Windows Server and is optimized to ensure high performance. Automatic queuing and prioritization capability ensures that media is processed as quickly as possible.
Adding Vantage Array allows for full scalability, load-balancing and redundancy, giving you 24/7 reliability and auto-failover. Processing can take place on one or multiple load-balanced servers providing high-volume processing to meet your exact workflow needs.
Best in class customer support
You can rest assured that our worldwide team of highly-skilled technicians will be available to provide the quick and comprehensive support and guidance you need to fully leverage the power of your Telestream product.
*Lightspeed Server sold separately; see Lightspeed server product sheet.